ACDU'S AS A 'SOCIAL ACTIVATOR'
Student Name: Sanyukta Bhagwat
School: California College of the Arts
Studio: Property in Crisis
Instructor: Janette Kim
The project is located along the 7th Street corridor in West Oakland, CA. I have proposed 'Accessory Community Dwelling Units'; a newer version of generic ADU's that can anchor the communities, boost economy, provide a pleasing affordable housing options and encourage space activation. This cluster of ADUs will serve as a 'Community Oasis' enhancing the vitality of the historical strip and social equity.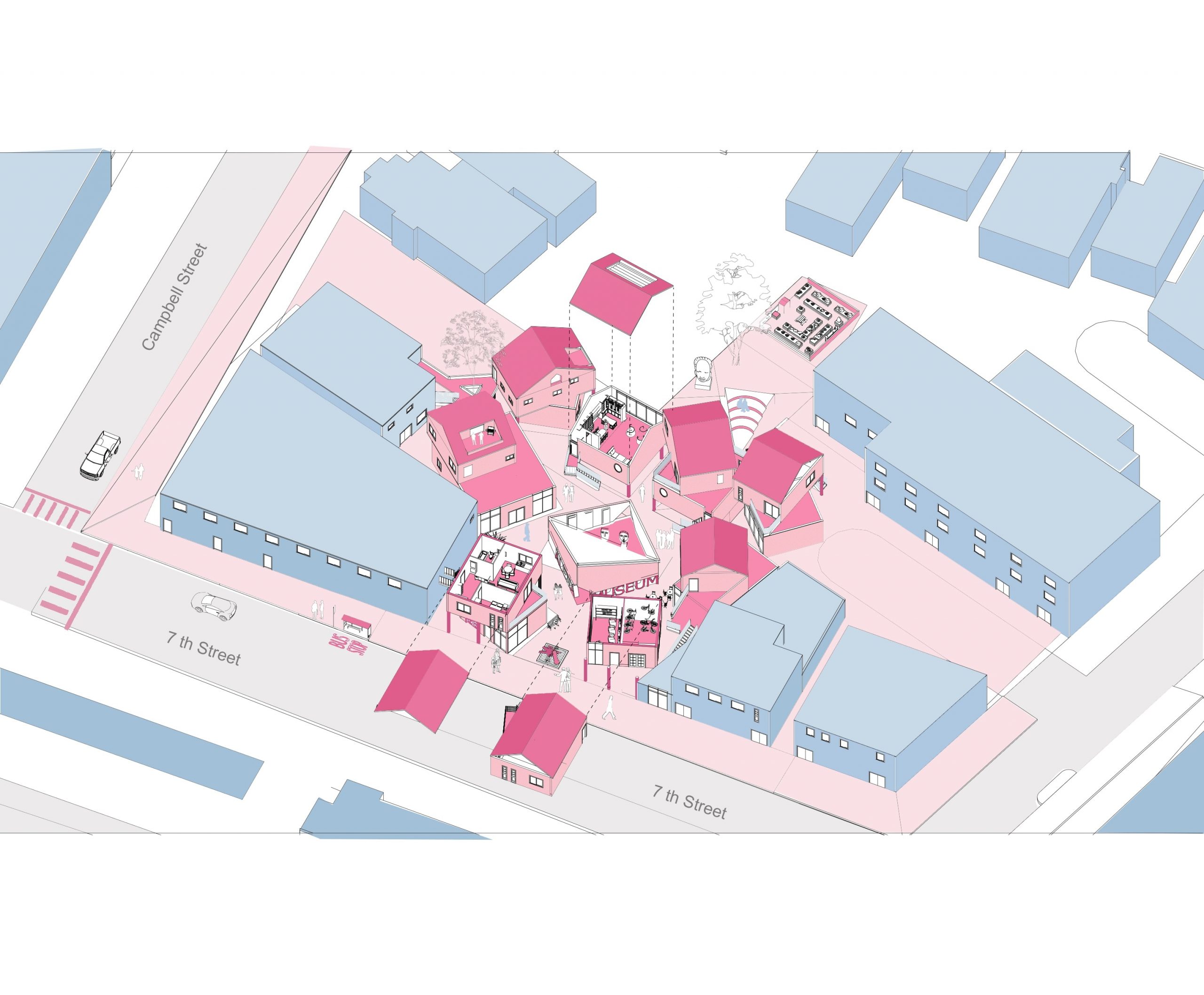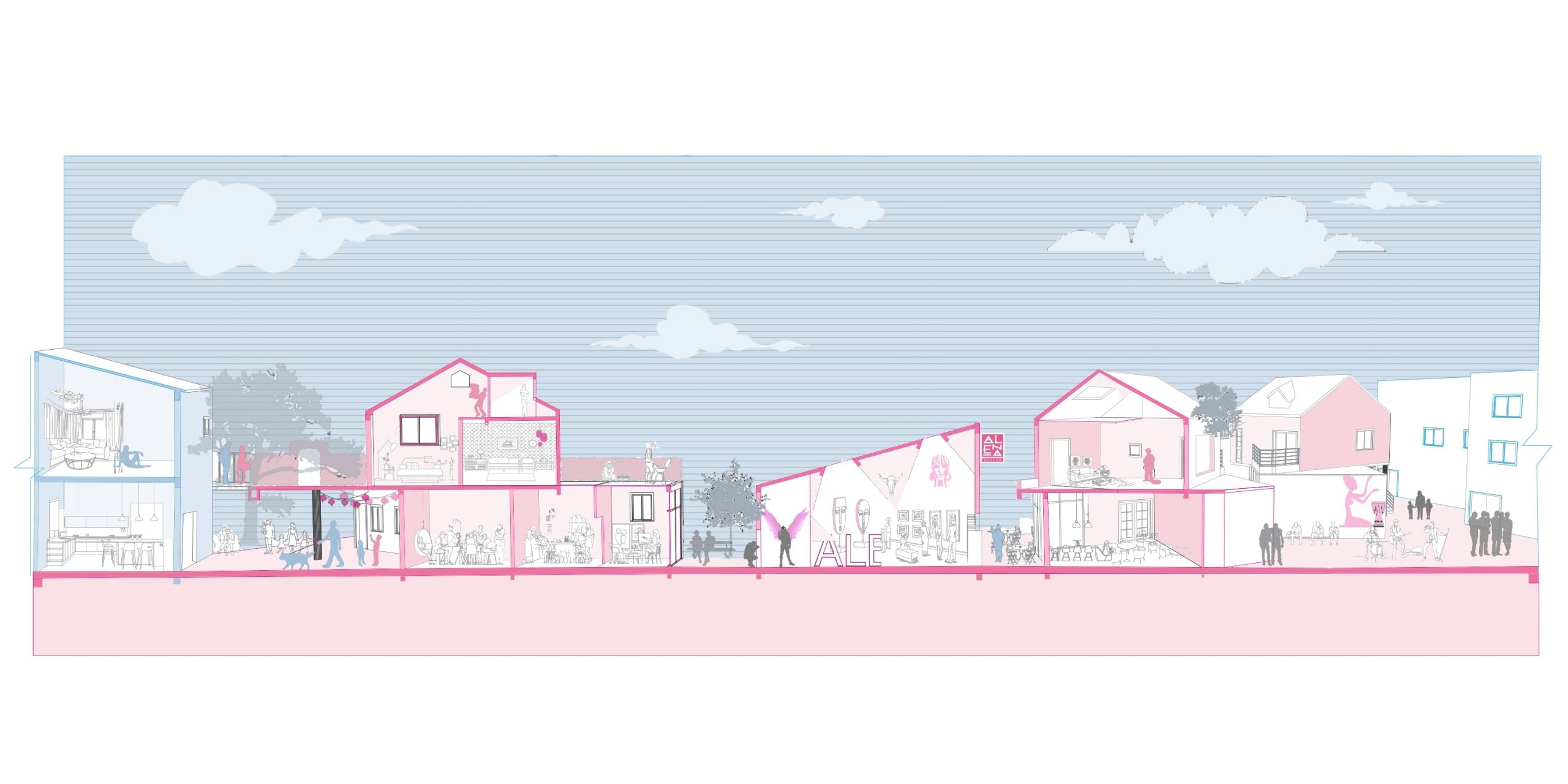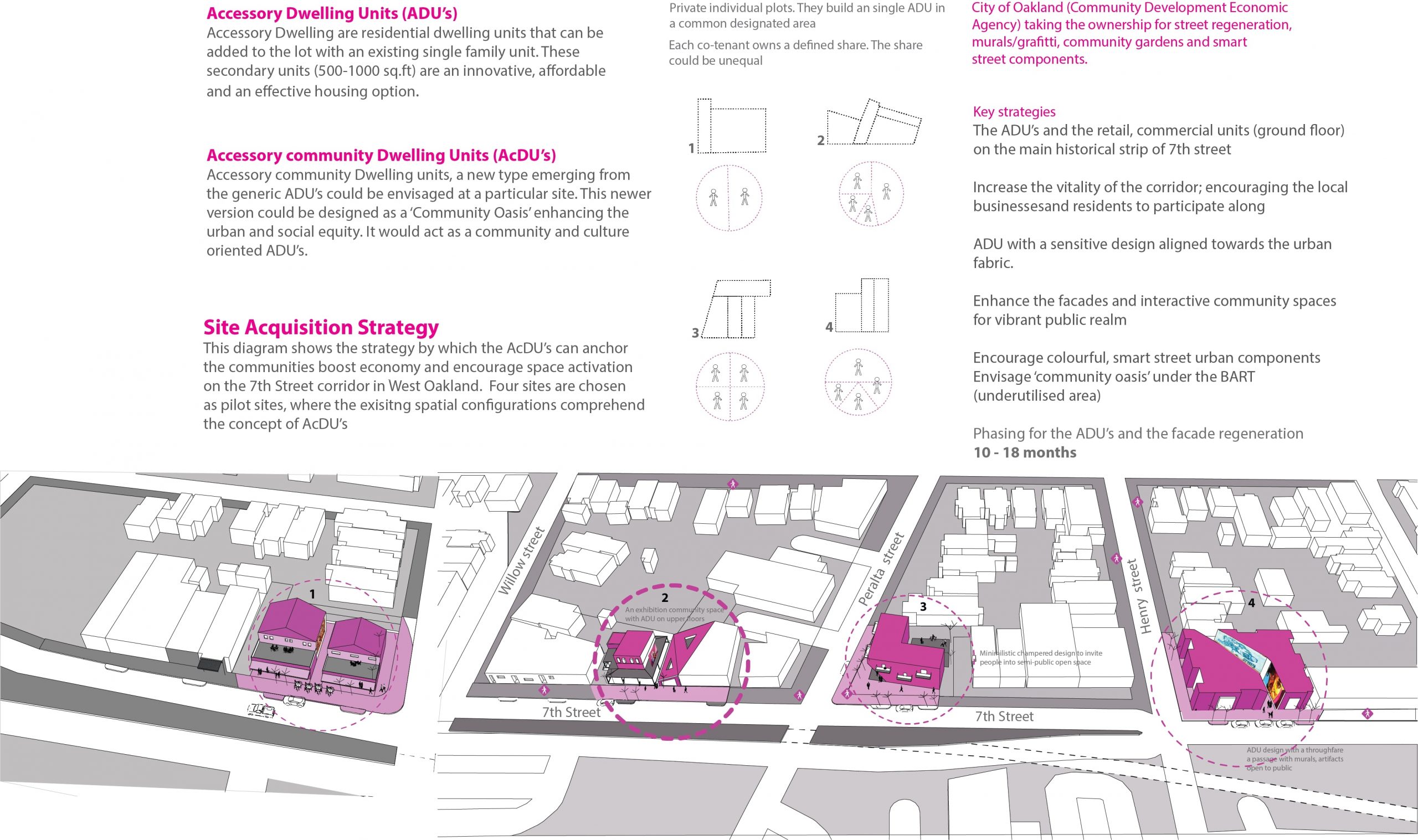 West Oakland is a neighborhood situated to the Northwestern corner of Oakland in the Bay area. It is placed west to Downtown Oakland, South to Emeryville and North to Alameda along the waterfront at Port of Oakland. The place has been known for its rich culture, African American community, power within and their strong rootedness. West Oakland historically has experienced aggressive urban renewal and lack of accountability. In West Oakland, gentrification is the result of decades of actions of disinvestment, redlining, predatory lending, homelessness, evictions, lack of affordable housing, preservation and a few tenant protection policies.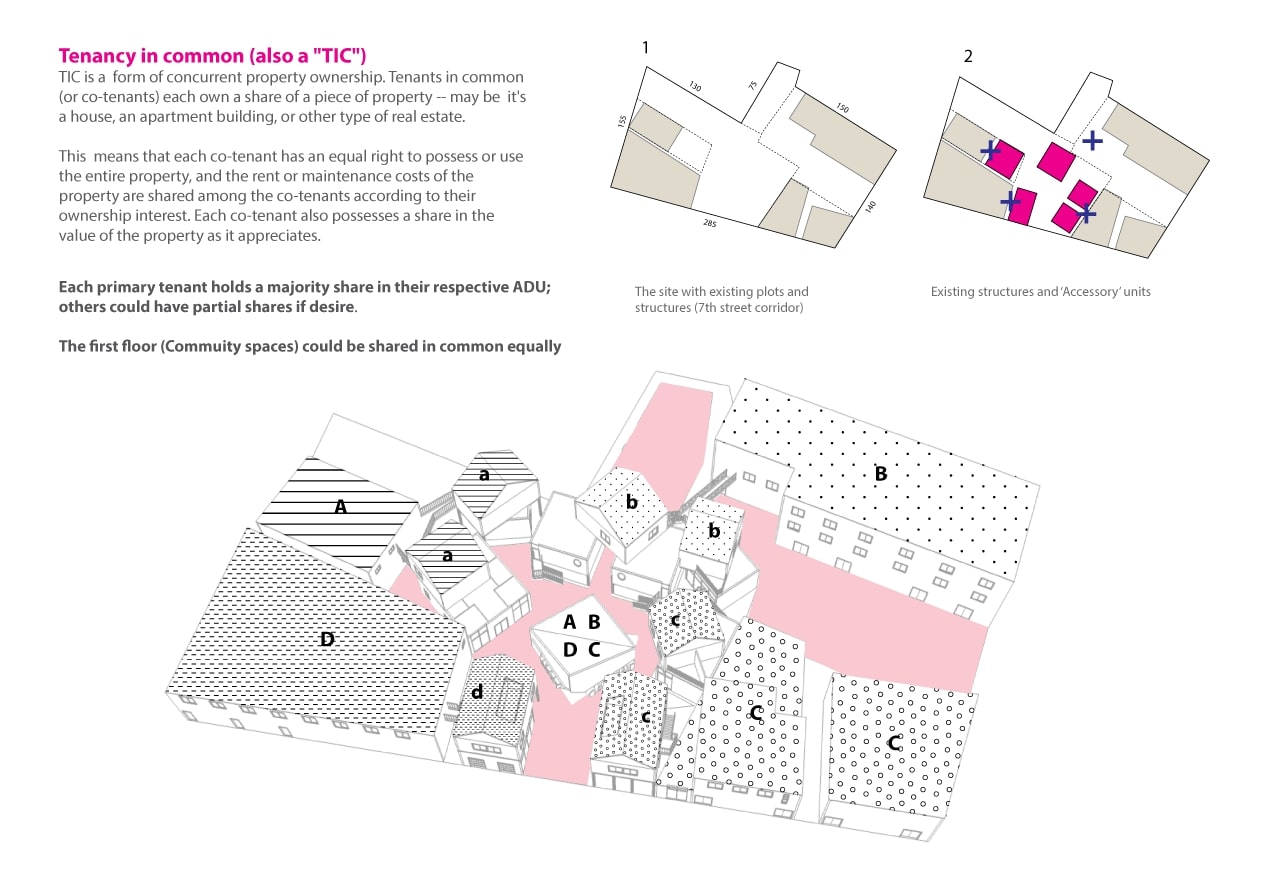 The policy making encompassing the sensitivity to the urban fabric, social cohesion, affordable housing options and public space activation could be the immediate strategies to be acted upon. The development of West Oakland is inevitable due to its proximity to San Francisco.  Due to this disinvestment and financial disfranchisement in the past, an emergence of a 'Commons platform with the existing residential properties is the key to overall neighborhood activation.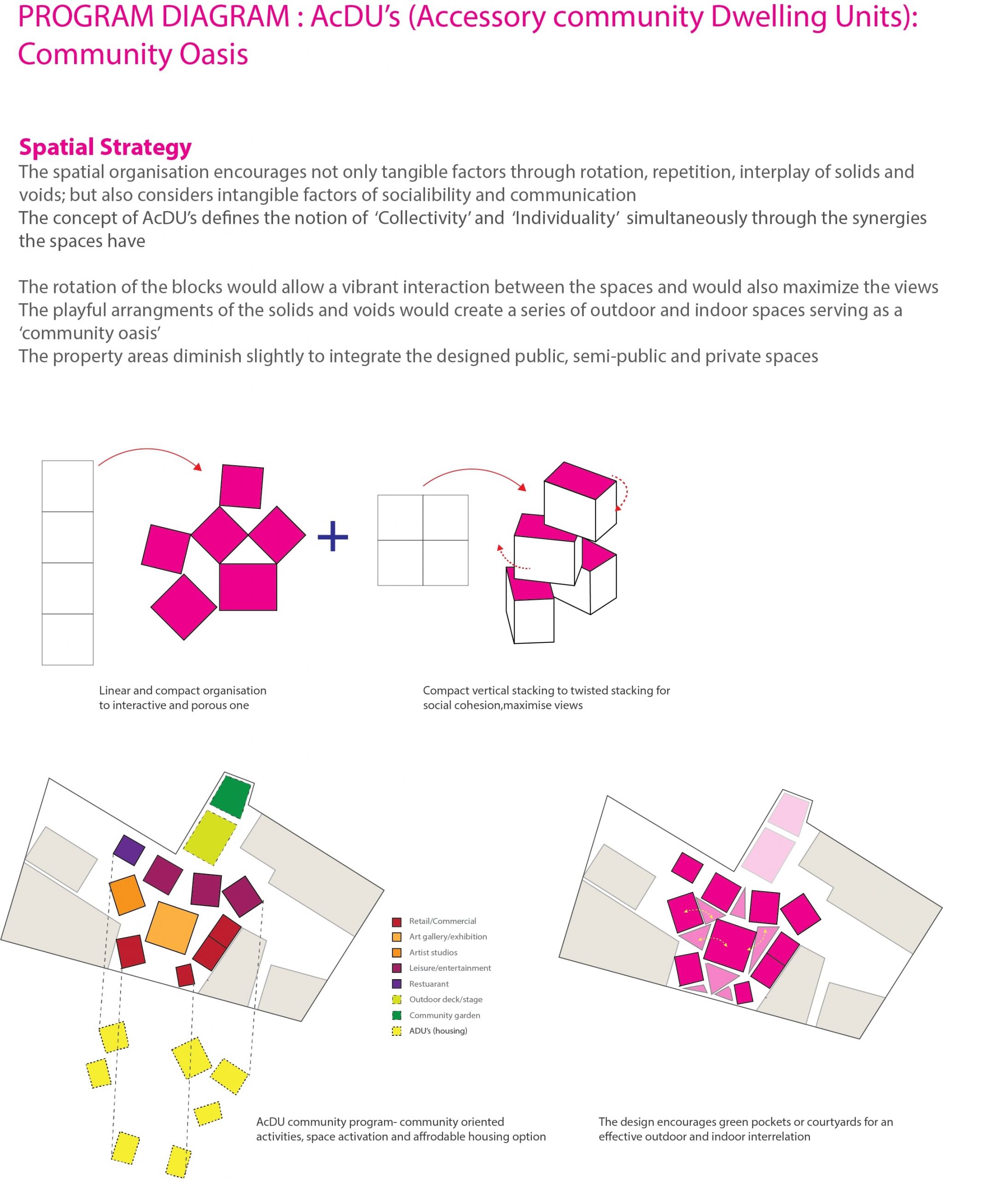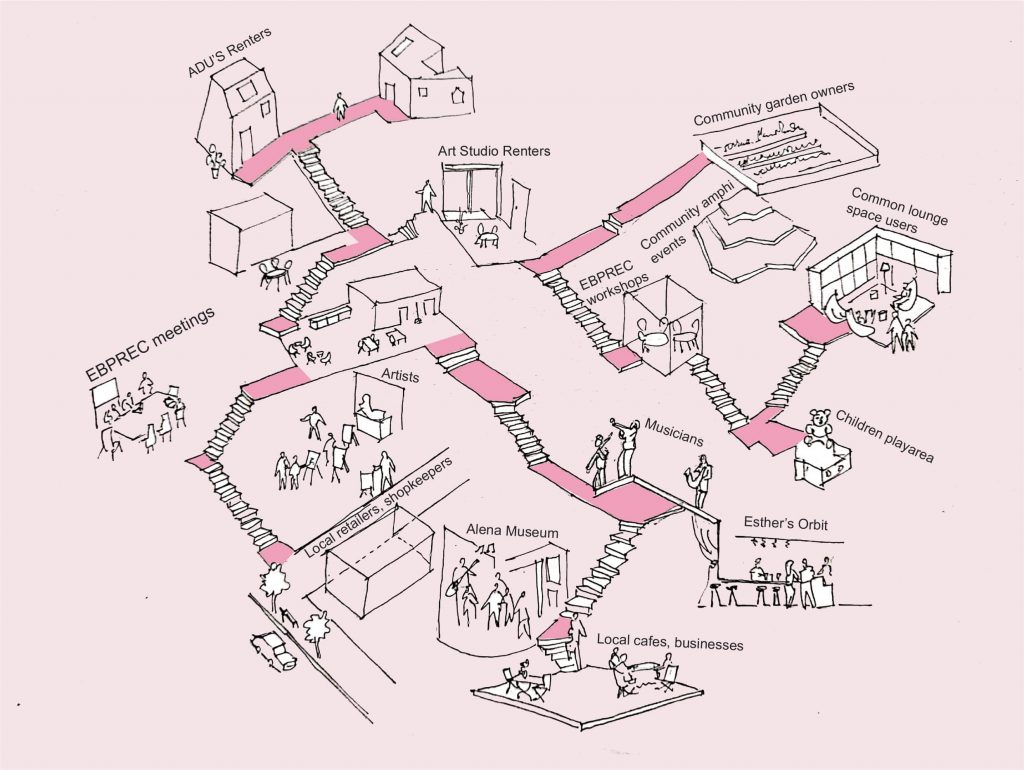 Some key highlights of the project:
The studio project was partnered with community organizations in West Oakland, mainly with East Bay Permanent Real Estate Corporation (EBPREC) and Equity Research Team (ERT). I strongly believe that 'Communities are build with the communities'- People who know that place and are the Experts.

 

The project envisioned Accessory Community Dwelling Units, a newer version of ADU's to foster socio-economic equity within the community. They would serve as a 'community and culture oriented ADU's'.
The strategy proposed for ownership was 'Tenancy In Common' (TIC). It is a concurrent property ownership; where the co-tenants each own a share of the property and have equal right to possess it.

 

The spatial organization encourages not only tangible factors through rotation, repetition, interplay of solids/voids; but also considers intangible factors like sociability and communication.
The concept of 'ACDU's' defines the notion of 'Collectivity' and 'Individuality' simultaneously through space synergies.
The ground floor caters to more public, social and economic life; whereas the upper floor serves more private enclave of affordable housing.