Student Name: Rich Yeung
School: University of California, Los Angeles, Extension
Studio: Interior Architecture Studio A
Instructor: Rogerio Carvalheiro
The Cultivate project was an adaptive reuse project for a former warehouse in West Hollywood. The new program will be a mixed-use building. This includes a market and café on the ground level, residential "micro-units" on upper floors, as well as a vertical grow center. We also needed to develop a void as part of the design challenge as well as incorporate inspired qualities from a contemporary architect.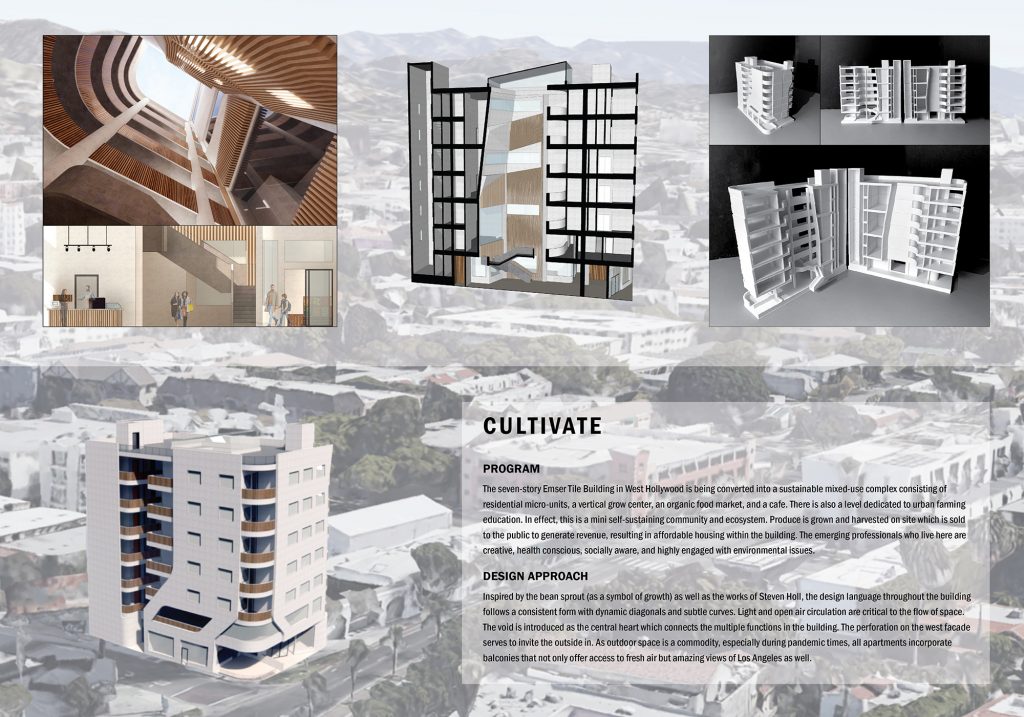 Background:
For this studio project, we were assigned a seven-story building in West Hollywood on the northeast corner of Santa Monica Blvd. and N. Olive Drive. Each original floor area measures roughly 4,700 SF. It is currently home to the Emser Tile Company, but it was built in 1925 as a storage warehouse. While it is not a landmarked building, it is instantly recognizable as one of the few tall buildings in the neighborhood. We were allowed to reimagine the current architecture, but within the bounds of the site plan.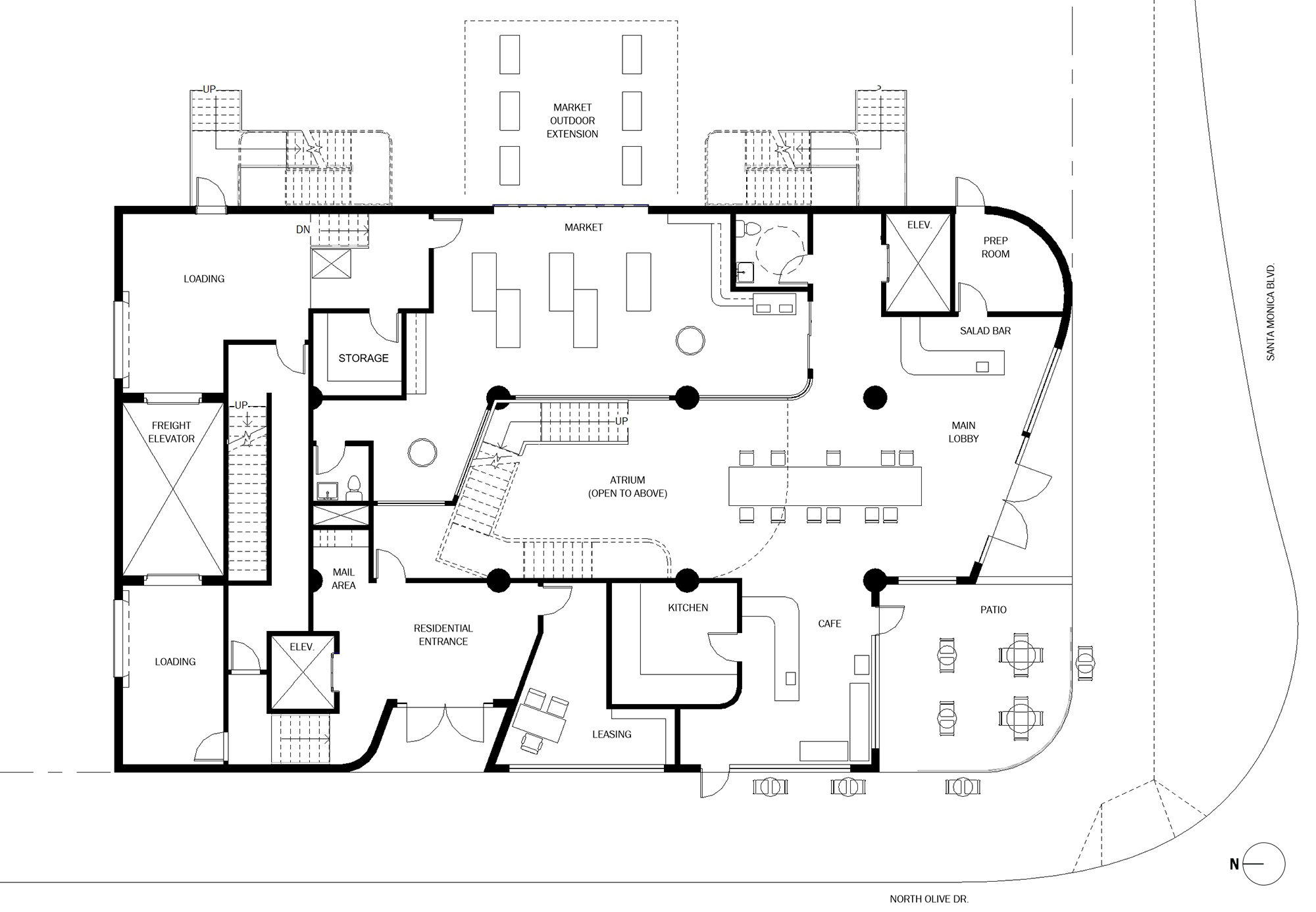 Objective:
The overall goal of the project was to consider the adaptive reuse opportunity of this building and transform it into an alternative mixed-use facility. It was also informed by social and environmental issues such as carbon footprint, diminishing suitable land for food production, lack of affordable housing, and the pandemic. As such, we were tasked with designing a program that consisted of a commercial space on the ground level (to generate revenue), residential micro-units on the upper levels (to maximize space and affordability), and the integration of a vertical hydroponics grow center (to produce food for the market). This resulted in a self-sustaining ecosystem.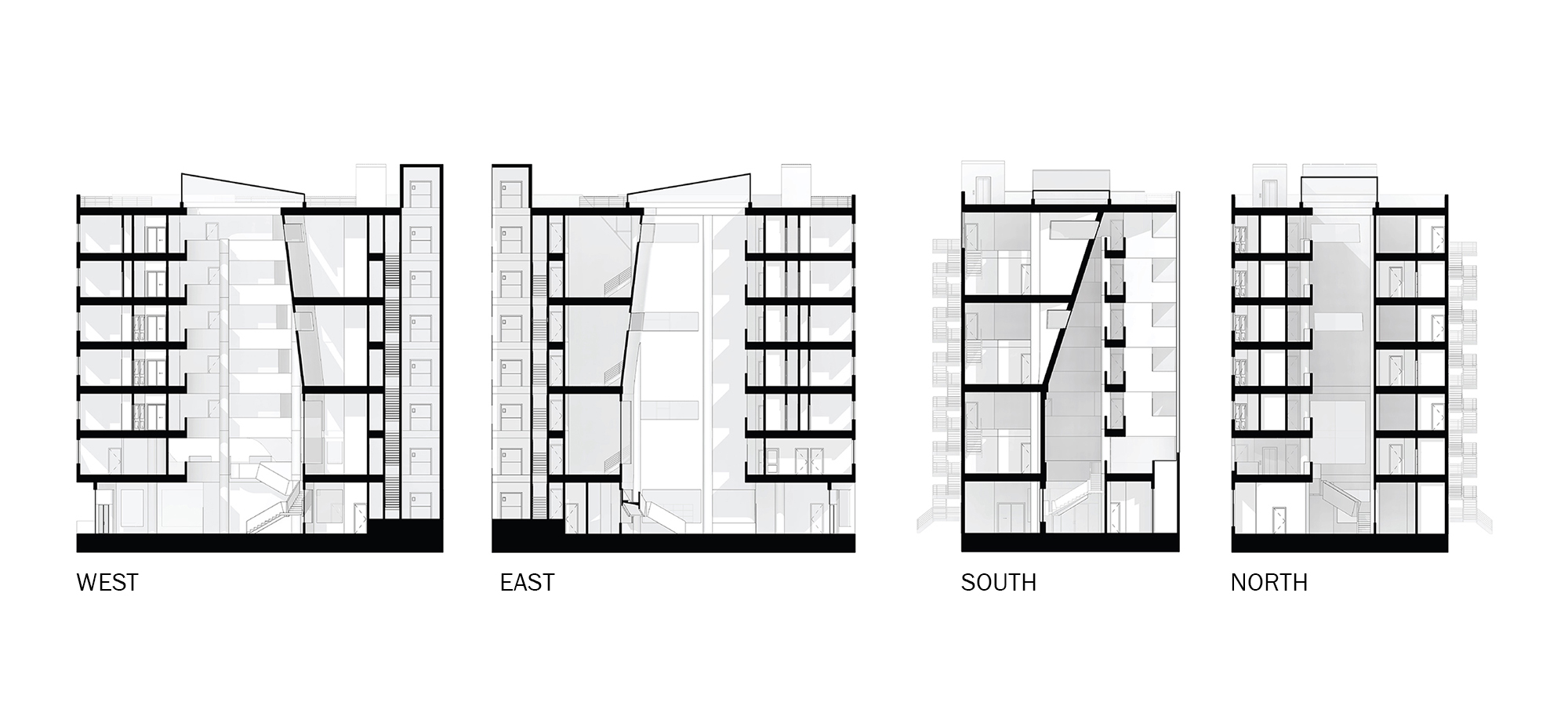 Requirements:
The commercial space requirements included a market and a café with seating, both on the ground level. There should be separate public and residential entrances. The residential units consisted of studios, 1BR and 2BR; it was up to us to determine how to allocate spacing and on which floors. To maximize square footage, we were challenged to come up with micro-unit solutions that still had access to outdoor or green spaces. The vertical farm needed to coexist with the rest of the program and incorporate facilities such as decontamination rooms and offices. All non-residential restrooms had to be ADA-compliant. 
In addition to the program requirements, we also had to create a "void", to see how the introduction of a negative space informed the overall environment such as circulation of light, air, and people, laterally and vertically. Finally, we had to research a contemporary architect from a provided list and incorporate elements of their design into our overall approach.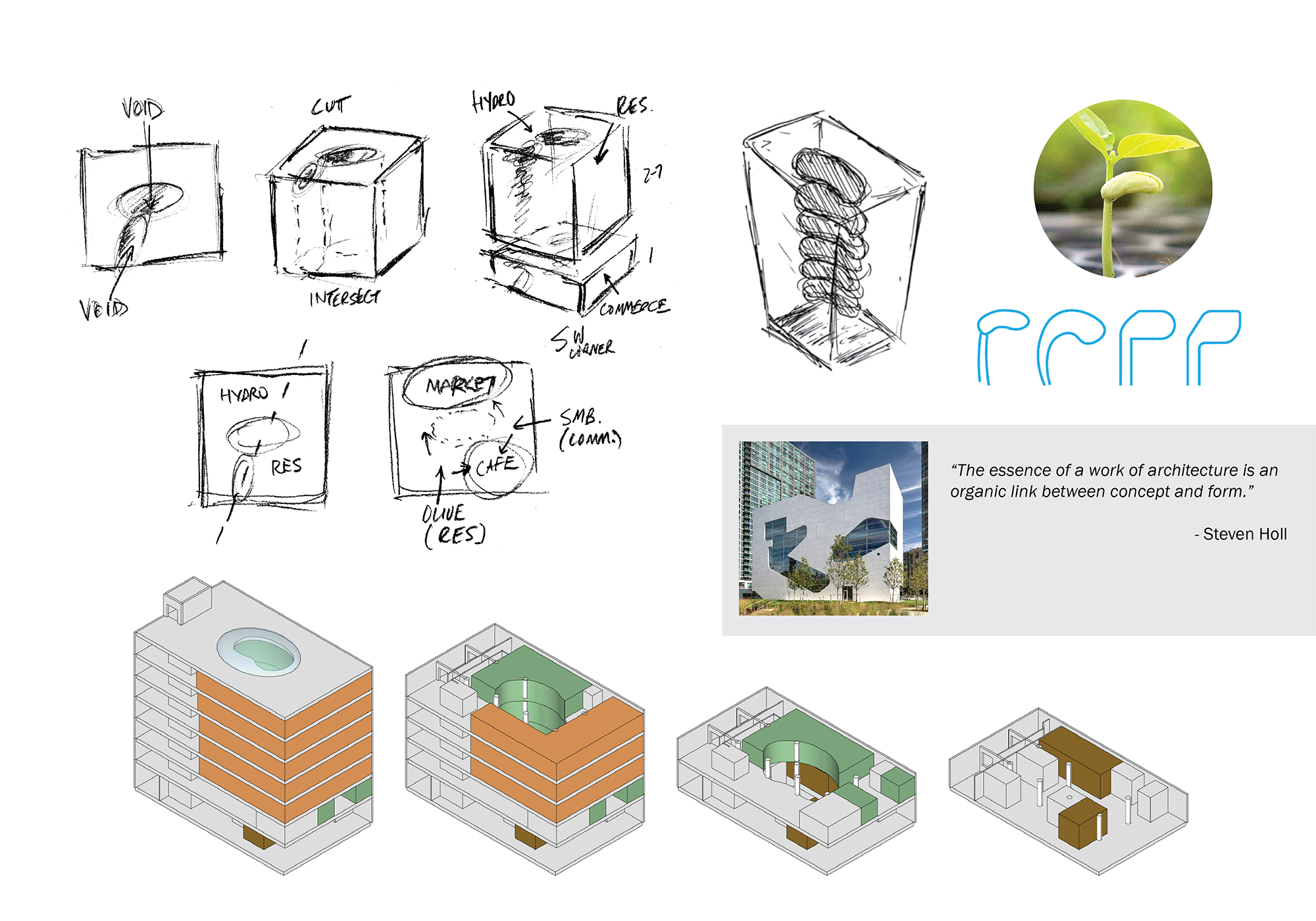 Solution 
For my project, I began with a site analysis. What struck me immediately was how much sun the building received on both the west and south sides. This informed where I wanted to put the residential zones since the grow center didn't require natural lighting. However, I felt it was important for the grow center to be fully integrated, so I designed access to the facilities on every other floor as each grow center unit was double height from floors 2-7. Subsequently, I mapped the market towards the existing parking lot (for loading and potential outdoor extension), the café along the Santa Monica Blvd façade where there was more traffic, and the residential entrance on the quieter N. Olive Dr. side. 
Urban farming is not a new concept, but it isn't widely adapted. As West Hollywood is a hub of creativity and diversity, I thought it would be a good idea to also add a learning center on the 2nd floor to educate people on the climate crisis and how urban farming can help. I wanted this building to serve as a community destination as well.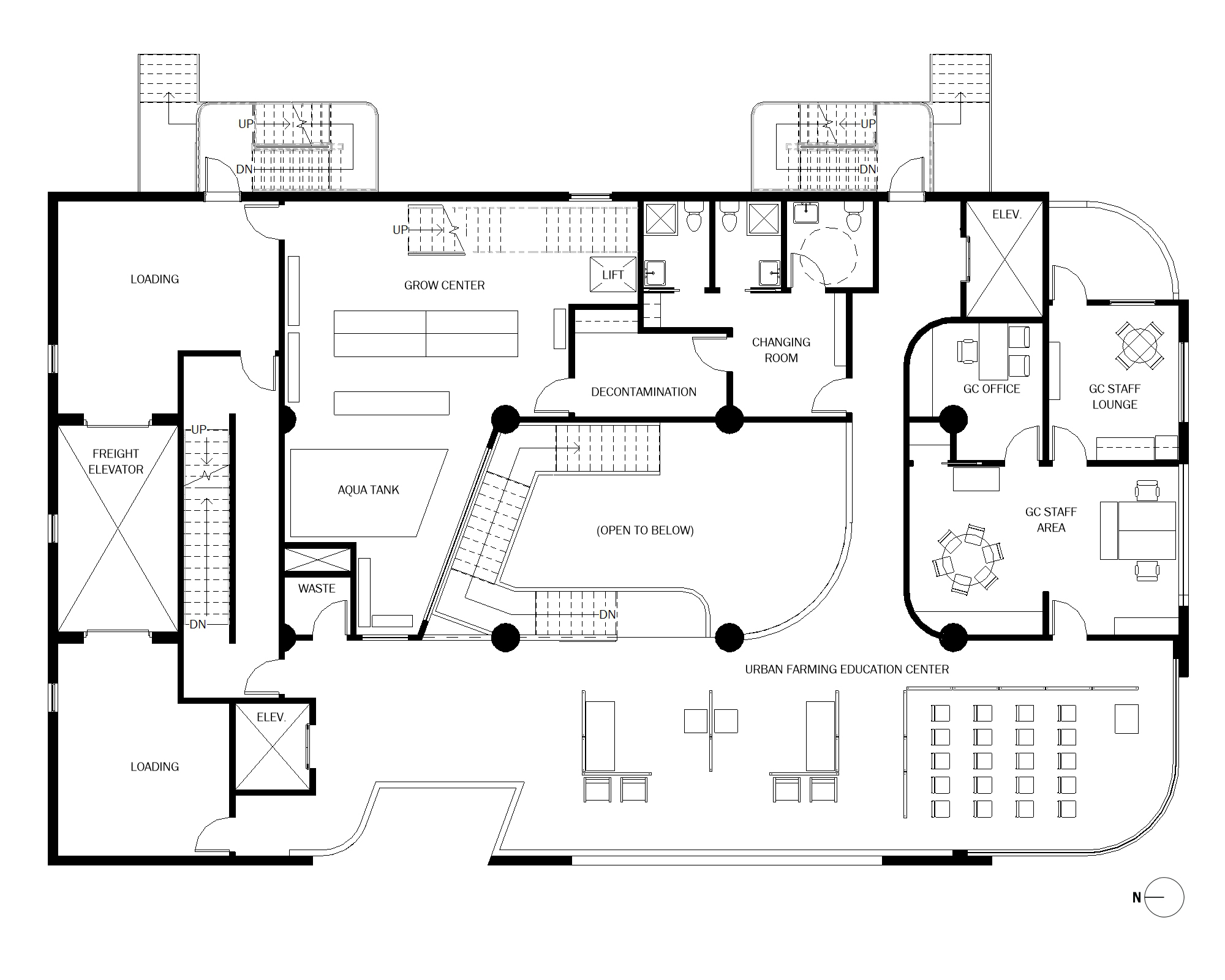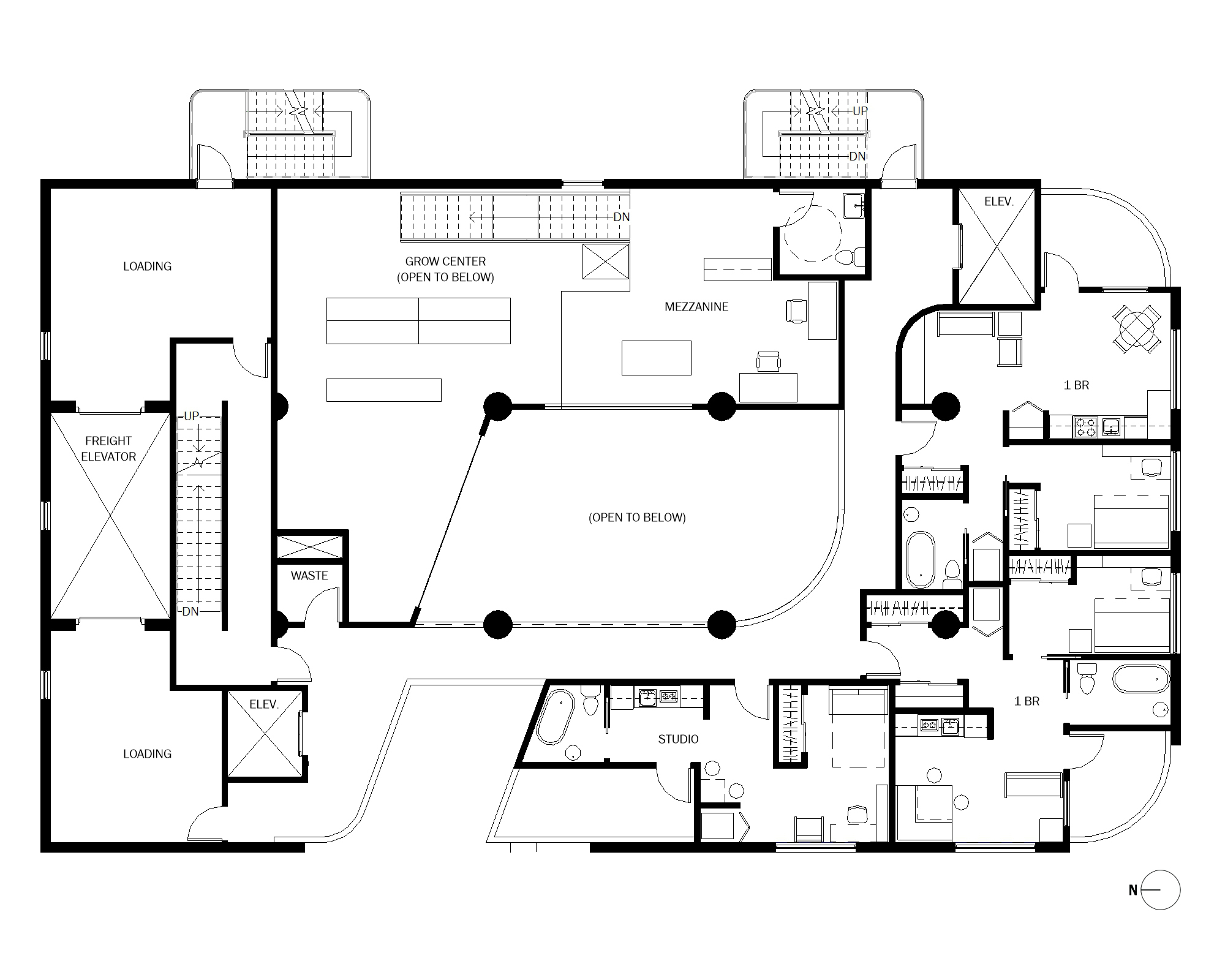 For the residential units, we were given rough guidelines for areas. On average, my studios ended up being roughly 440 SF, the 1BRs were 610 SF, and the 2BRs were 770 SF – all including a small balcony for access to natural light and air. This was especially crucial given the pandemic circumstances and how important a commodity outdoor access became. I also designed custom transformable furniture to work within the smaller spaces. Access to the vertical farm, via changing and decontamination facilities, was available on floors 2, 4, and 6 for those residents who also volunteer there.
Steven Holl served as my architectural muse as I loved the way he plays with geometry and forms to generate and direct light into spaces. When I initially concepted the void in my building, it was a bean-shaped atrium contained in the middle of the complex to communicate growth. As the design evolved, I opened up this void by puncturing the west side of the building so that there is a continuous flow of air and light from the outside to within. As a result, the design language throughout the building follows a consistent system of dynamic diagonals and subtle curves – creating a conversation between the exterior and the interior.