Student Name: Jazzper Elijah Morales
School: East Los Angeles College
Studio: ARC 202
Instructor: Michael Hamner
A community information center approximately 45,000 square feet in the city of Monterey Park, CA. In replacement of the existing site which is a Pep Boys Auto Parts & Service Center at 256 S. Atlantic Blvd 90022. With a planned public park just south of the future site, directly behind and divided by an existing alley way. The site is adjacent to the Metro Gold Line, near the Atlantic Square shopping center. Within east Los Angeles, the future community center will be roughly a mile away from East Los Angeles College and other local parks / K-12 educational learning facilities.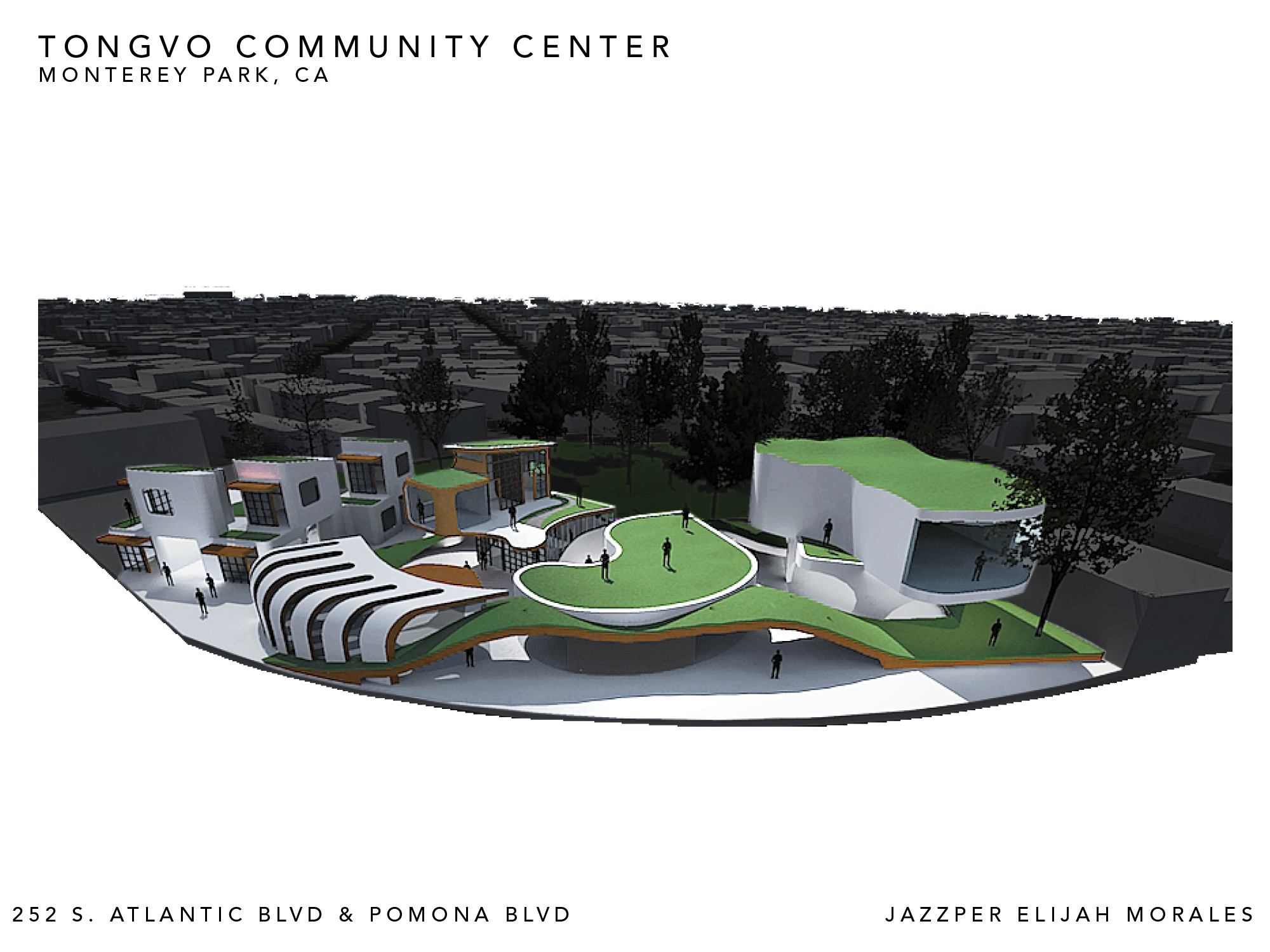 The Tongvo Community center will have a large multipurpose space, open and private work areas with small and medium sized breakout rooms. There will be two fabrication shops, analog and digital. The traditional reception waiting area will have a connection to the administration offices which will consist of the director, assistant director and an open office area for management to use with an occupancy of four. A common work area will be created to provide educational and health services, along with work spaces in a safe environment, especially during off-hours, the center will be accessible twenty-four hours. After business hours usage will include personal accommodations such as locker rooms and six dorm rooms with two occupants per dorm room, with connected restrooms & showers. A cafe serving both interior and exterior spaces will be located on site and at the center of the community center as a main focal point for gathering both faculty staff and students together in one space.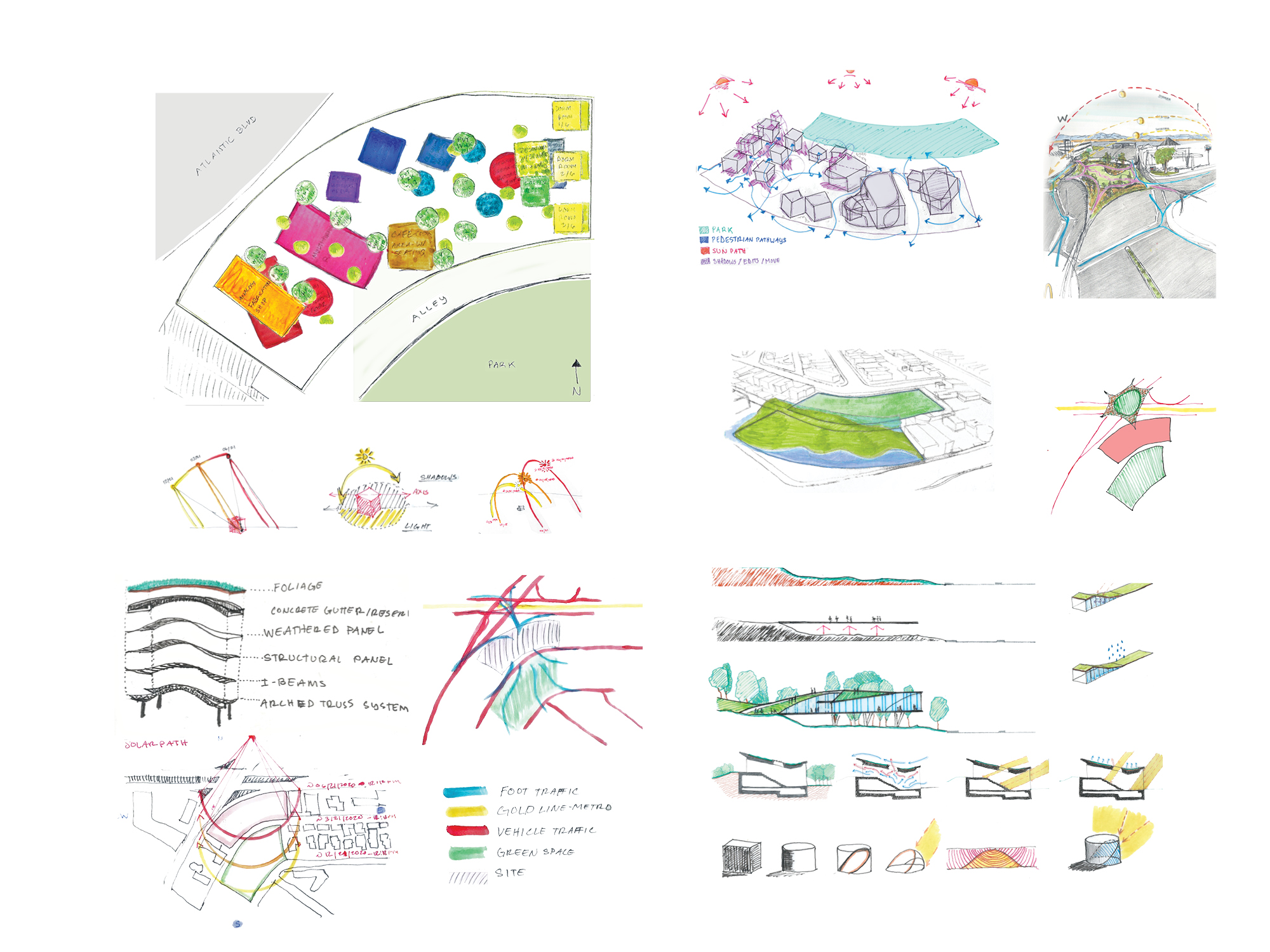 Influenced by the San Gabriel mountain ranges which are viewable north of the site within the horizon, the community center encourages the organic shape and silhouette of the mountains and explores the creation of green spaces around structural environments. Modified to fit the needs of the pedestrian foot traffic from the Metro Gold Line just across the street at Atlantic Blvd & Pomona Blvd, circulation is a vital role within the design implementation for this facility through the exploration of indoor and outdoor spaces within the volumes of the site itself.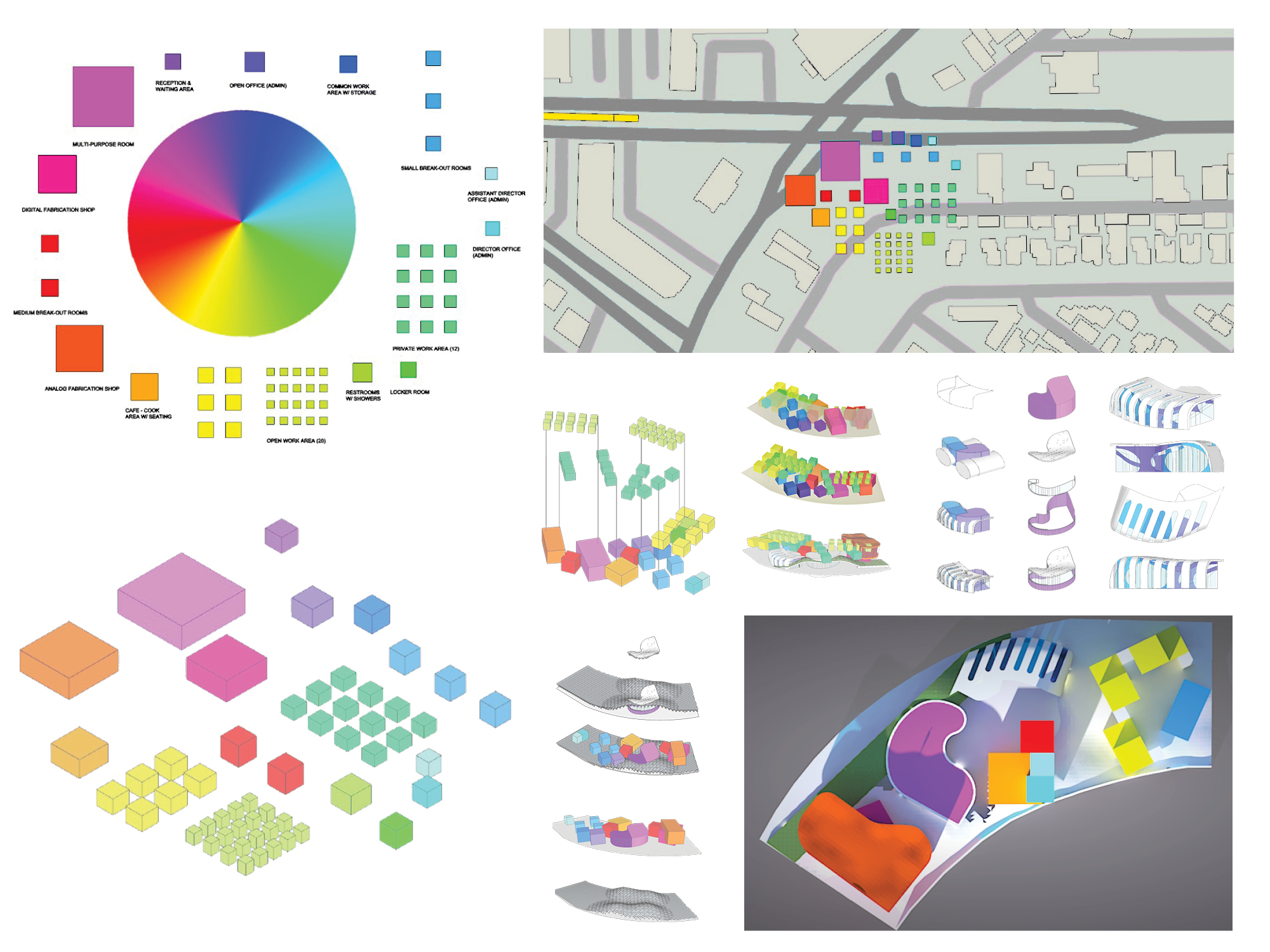 Landscape buffer spaces were designed to interlock each structural space in order to create a shield from the sound of local street traffic. The implementation of green roofs, green walls, and retaining walls throughout the community center with added foliage will create a cooler climate for occupants, even on extreme summer days. The solar path of the sun is another important influence which always comes from the south, hence affecting the orientational direction of each building and specific window opening for both cooler air climate and air circulation.