Student Name: Elliot Robinson
School: California Polytechnic State University, San Luis Obispo
Studio: Cal Poly LA Metro
Instructor: Stephen Philips
Fragmented Nesting is a mixed-use project located in Echo Park Los Angeles, situated on the corner of Sunset Blvd. and Echo Park Ave, extending throughout the  entire block. Nodes propagate the site acting as origins for form and program to expand from. At the center, creative workspaces nest within single-loaded corridors housing bars, with retail and other amenities sprinkled throughout, providing an interwoven network of programs and interactions between residents and visitors. These close proximities and adjacencies create a five-minute city within one block of Los Angeles. Through the assembly of form and program people from a multiplicity of backgrounds pass, interact and come together to create a vibrant and complex community.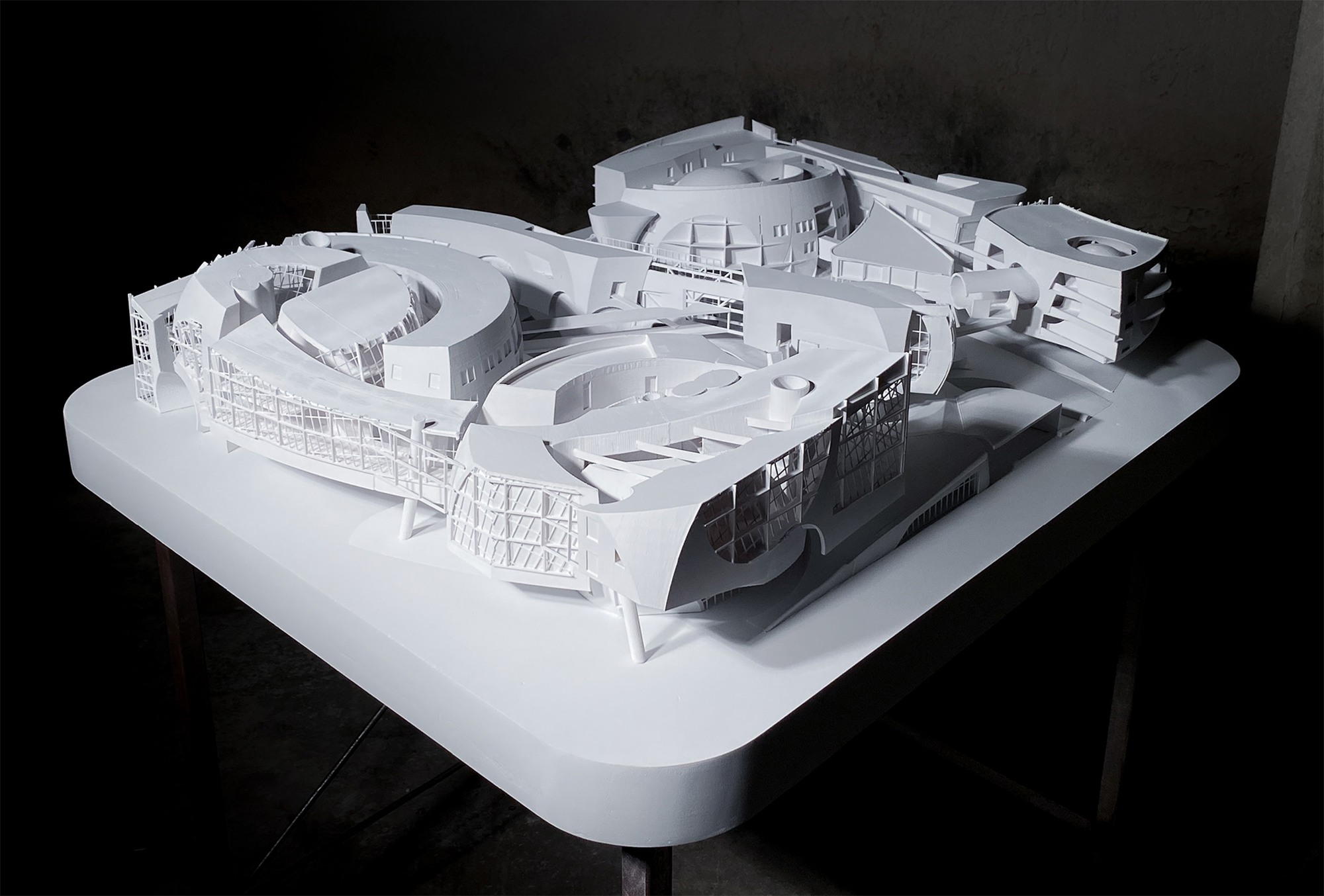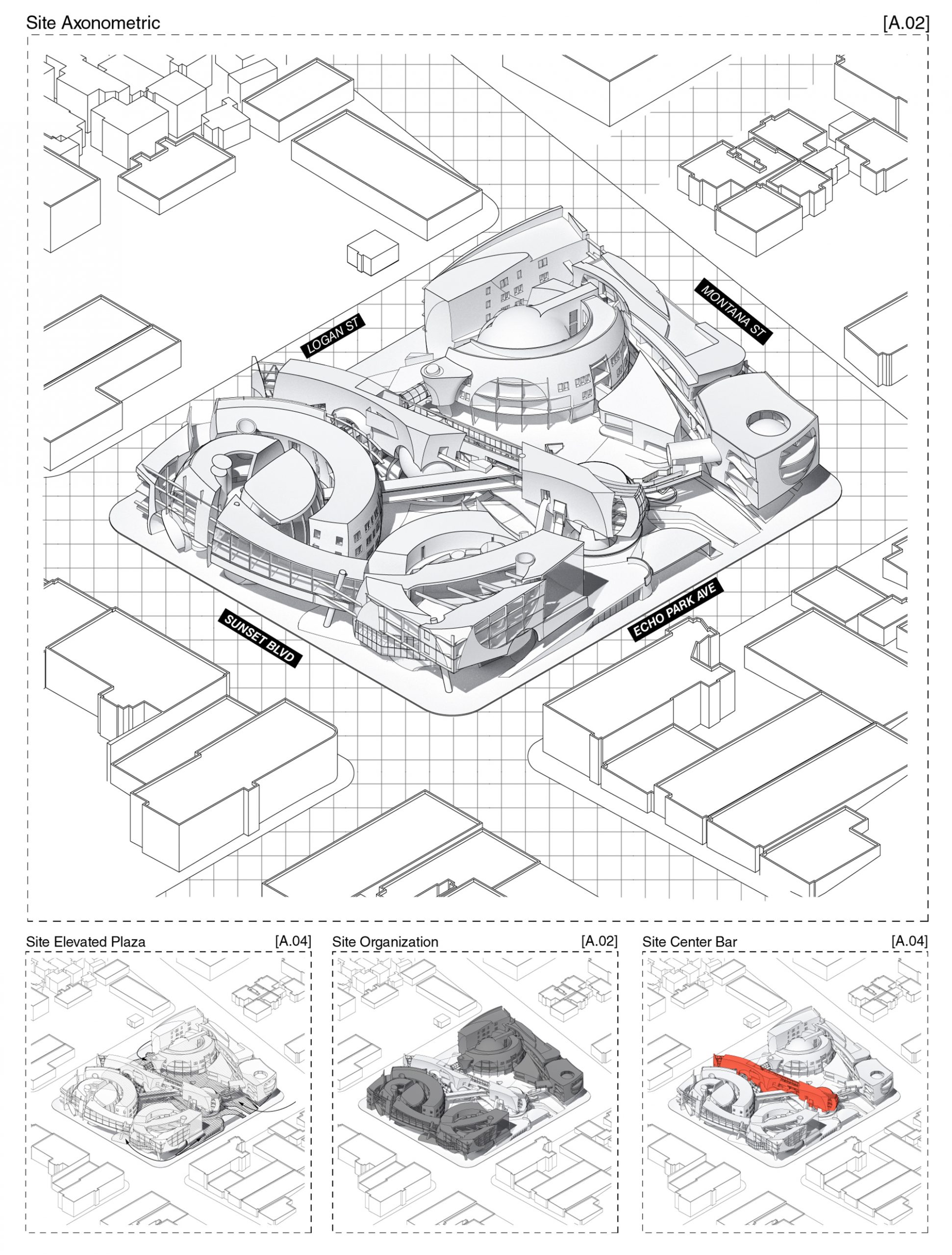 Fragmented Nesting challenges the conventional programmatic relationships of mixed use residential by nesting programs within one another, creating diverse pods or nests throughout the site. Direct and indirect paths link these pods facilitating interactions between the pods and people within the complex while also welcoming visitors to explore further.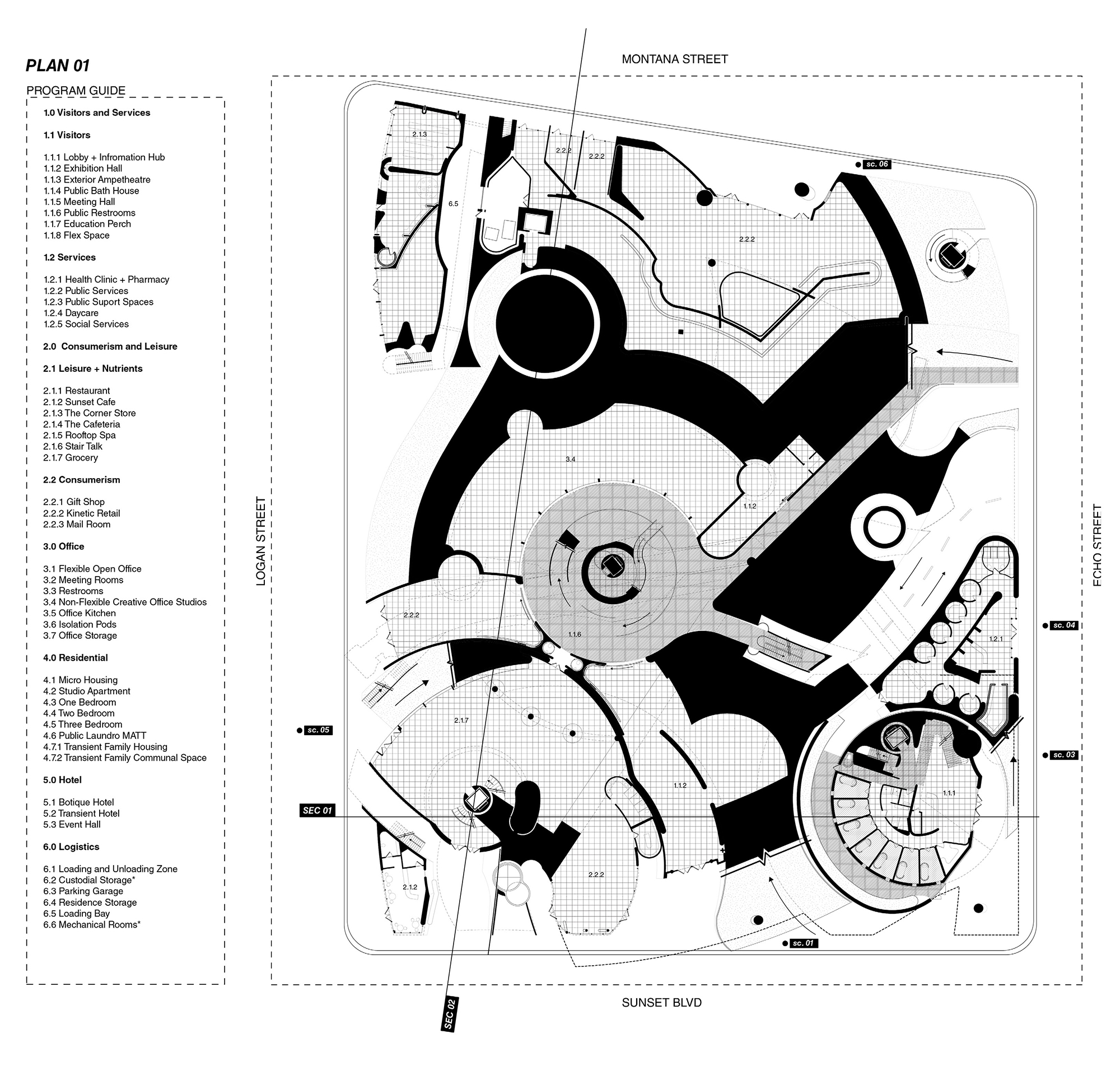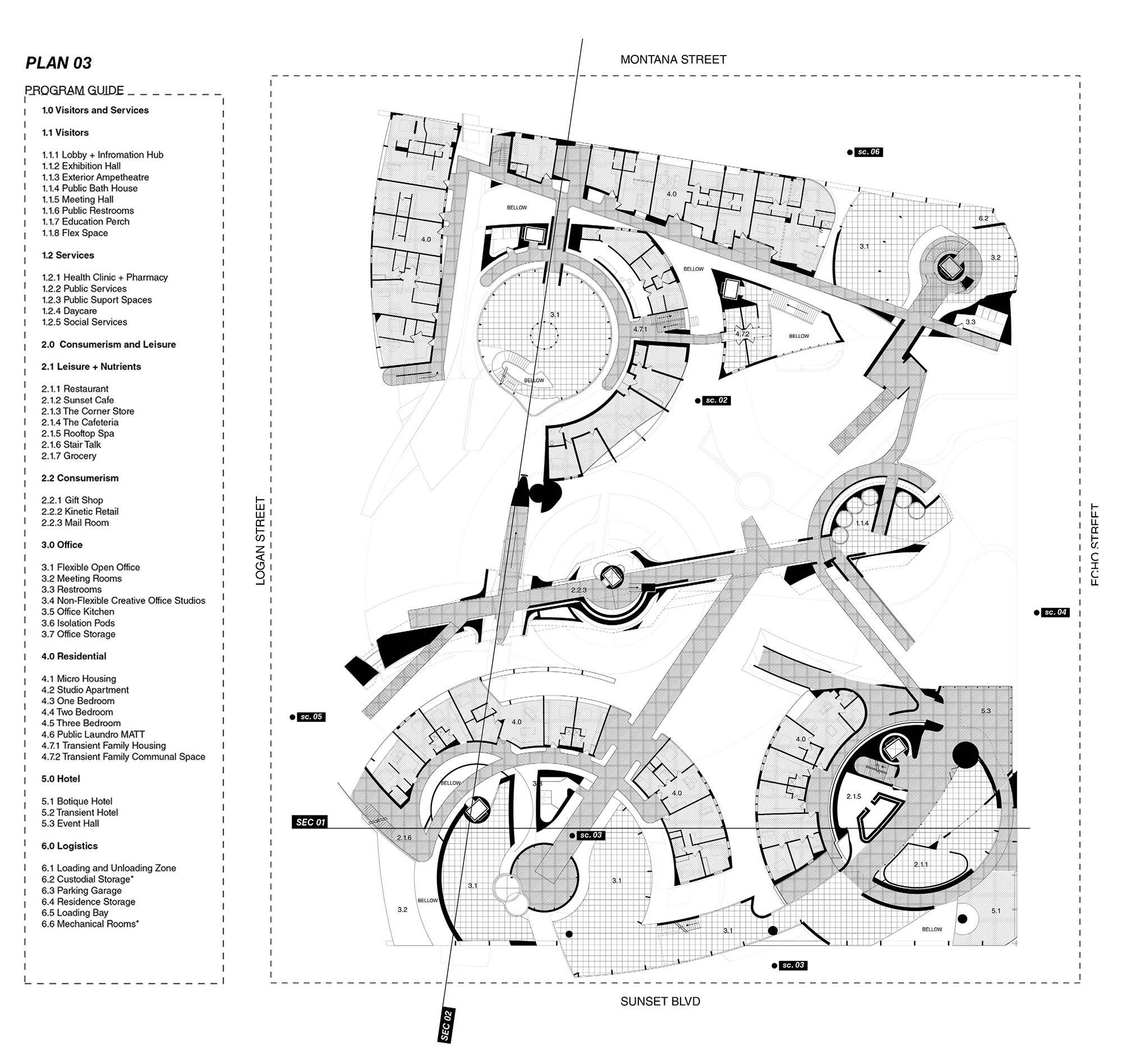 Arriving from Sunset Blvd., Fragmented Nesting greets you with cantilevered forms that weave between and up to one another, providing space below for the bustling street. Market places, hotels, pharmacies, and restaurants butt up against the sidewalk, inviting visitors to engage. Through the gaps of the building, ramps flow up into a central plaza pulling the street life into the center of the block where children play and residents and workers soak in the sun, mingle, eat and much more. Here, in the center plaza, you are elevated from the street, free of the stresses of traffic and the commute. You are settled in a little LA oasis. Paths lead every which way, up and down, left and right, as people move through the site; some on a mission to get from point A to B and others meandering through the vibrant playful architecture, gardens and community. Some people live here, others work here, a few are exploring the city, and some call it their favorite place to relax. No matter, this block is distinct from the others in LA as it offers all the amenities within a small  300' by 300' square; living, working, shopping, health and more! It's a miniature city complex woven tightly together as a tiny part of a big city operating as a living organism on the global scale.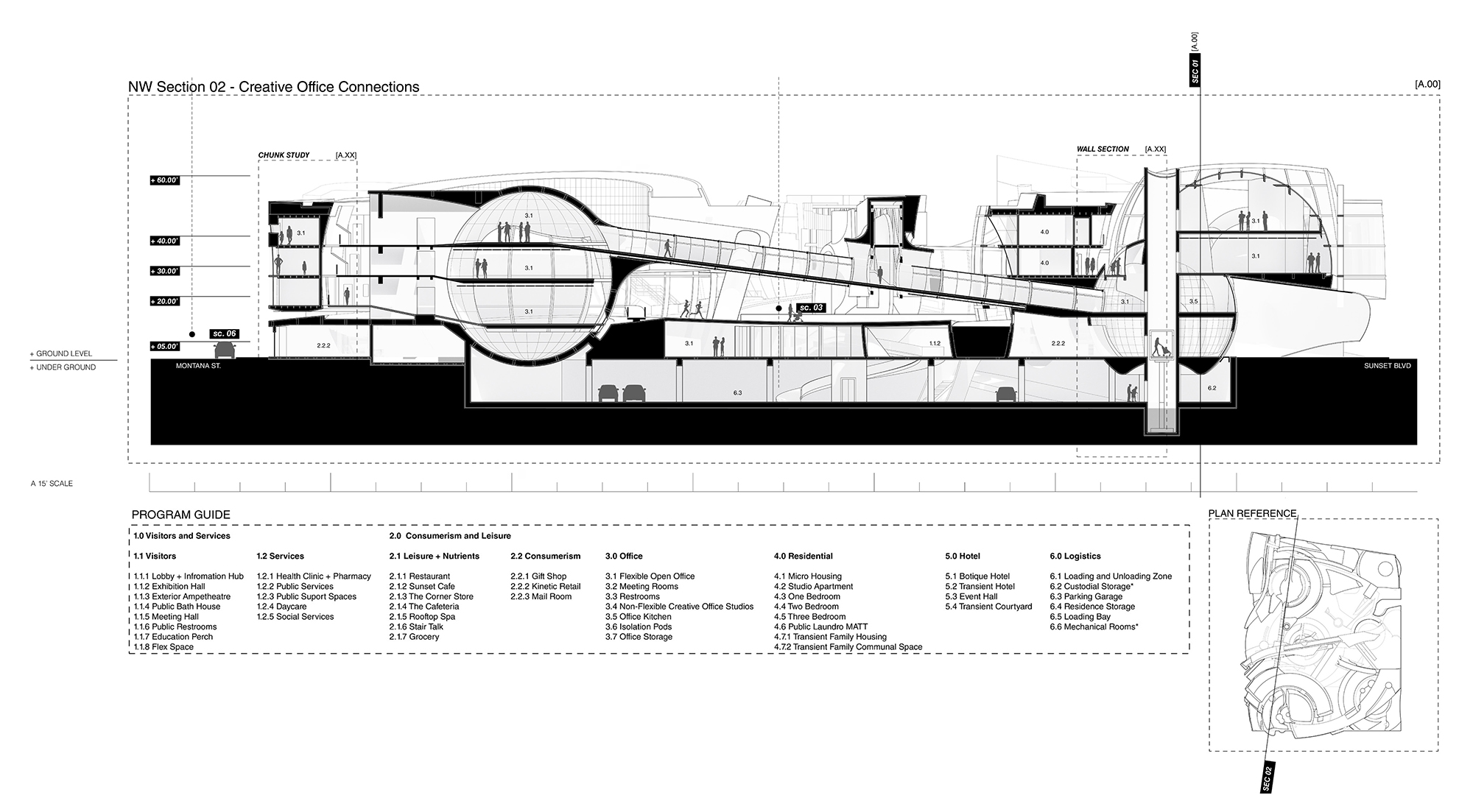 Fragmented Nesting breaks down even further from the block scale to nests which are positioned across the site, holding creative offices at the center and housing surrounding. This configuration allows for apartments ranging from micro scale to 3-bedroom luxury family units. Housing orientates itself  towards the calm central plaza or minor exterior streets with 75% being low-income housing and 25% being market rate, flipping the standard development ratios. As people arrive to work, they walk through different programs running into and passing different people who either also work or live there. This puncturing of programs with circulation fosters chance encounters and an assembly of people where circulation expands to allow gathering. The sphere buildings that make up the creative offices provide gravitational organization allowing you to circulate and understand the organization after just a short while.


As the nests expand into one another they fragment each other creating exterior crevasses that allude to the centers of other nests on the site. Additionally, the crevasses break up the forms, providing light and air to residence where balconies give people private exterior spaces.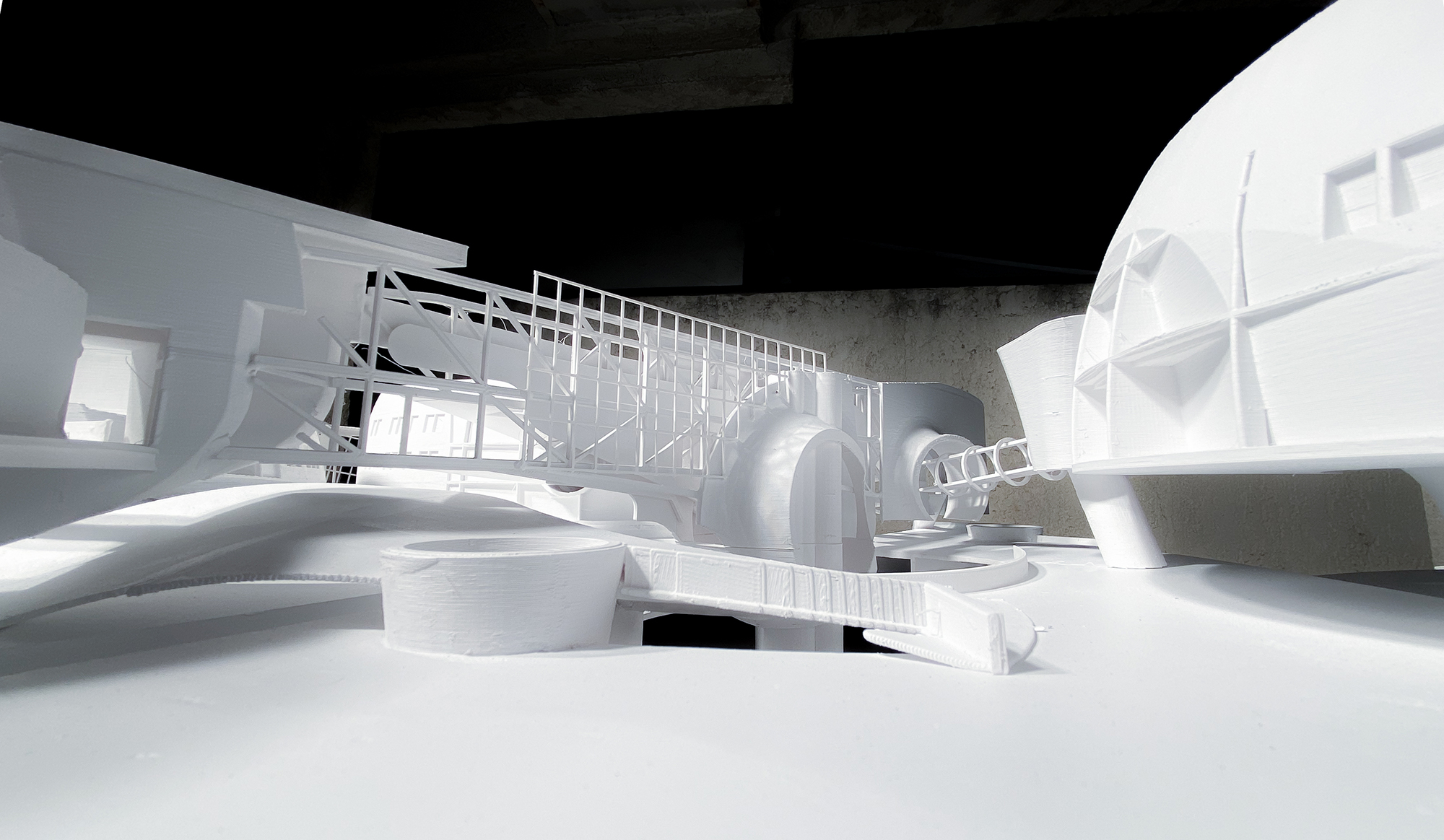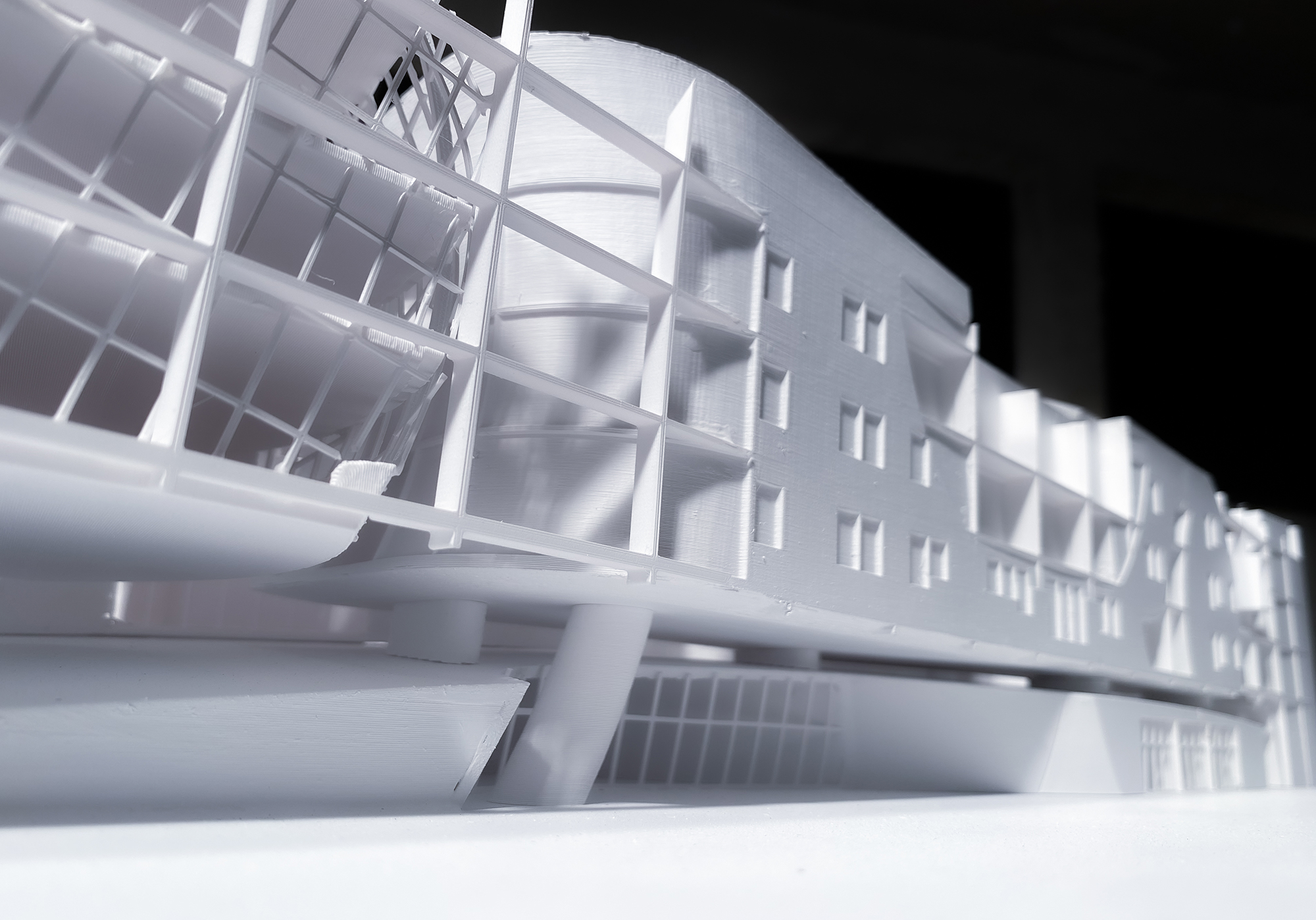 With vibrant playful forms, a structural grid provides rigidity to the chaos, as it moves seamlessly across forms, weaving in and out of the building skin. This weaving exposes scalloped portions of the form and a more public aspect of the program such as the workspaces or the balconies that can be seen from the central plaza. This change in opacity distinguishes programmatic levels of privacy where more translucent zones hold public programs and opaque areas hold more private programs. All these architectural intricacies assemble to a multitude of spaces for different purposes and different people, allowing for a community to fluidly grow into the space and develop its own purpose and drive in the overarching constructs of society today.