FAIRMOUNT SCHOOL OF ART AND ECOLOGY
Student Name: Andriani Sugianto
School: California Baptist University
Studio: ARC412
Instructor: Caleb Walder
The Fairmount School of Art and Ecology provides a holistic and immersive educational experience for each student through artfully scientific design and its enhanced learning environments, all while maintaining high sustainability standards.
Design for Integration: The Fairmount School is the result of a systematic design process to integrate its architecture with the desert climate of Riverside, California. The design provides exceptional comfort of 81% occupied hours with minimal energy demand by utilizing sustainable and natural methods. First, the program and site are understood to accommodate an optimized response through massing and orientation. Then, the passive strategies for natural heating and cooling and strategic envelope decisions are addressed. Next, active systems and renewable energy are implemented to provide a net positive building. This effective and efficient process minimizes energy demand in a holistic and integrated way.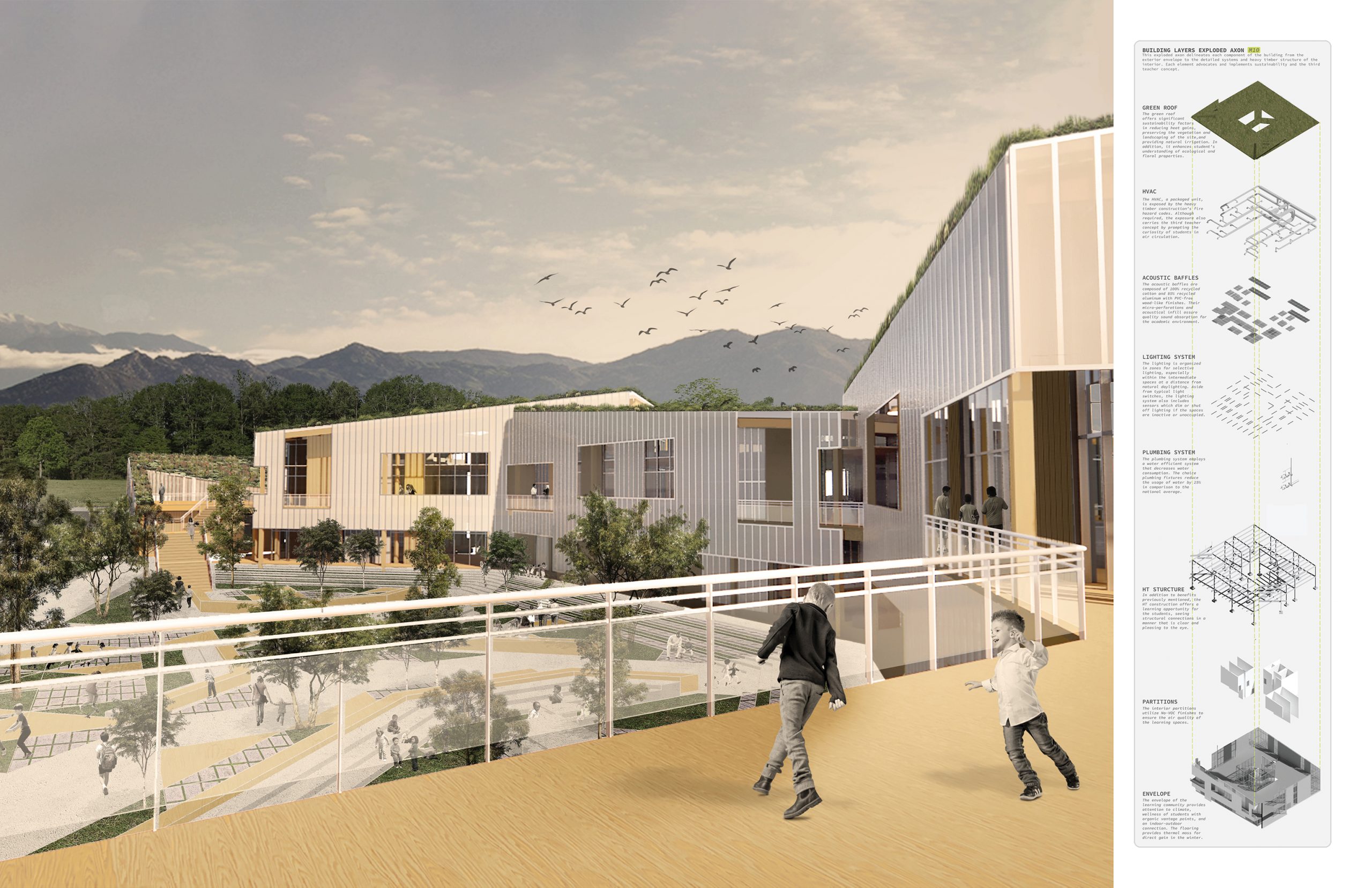 Design for Equitable Community: The school is located in downtown Riverside, California, a significant urban center in the Inland Empire region. This location is a populous and ethnically diverse area of Southern California with many monumental, historical landmarks nearby. The school's strategic location will enrich public access to these features through developed transportation infrastructure for walking, transit, and biking. These fundamental natural and urban areas serve educational purposes in the value and significance of local ecological and cultural features of Riverside that increase the equity of the city's community.
Design for Ecology: The Fairmount School buffers the boundary of the underdeveloped land of Fairmount Park and the highly developed land of downtown Riverside both visually and acoustically. Its intermediary position protects the local ecosystems in the park and expands the native plant species onto the site. 83% of the site incorporates vegetable gardens, learning gardens, outdoor classrooms, and verdant spaces. These adopt the local flora of Fairmount Park, which reduces water usage through xeriscaping due to their natural adaptation to the land. The envelope's polycarbonate layer and horizontal solar shading ensure awareness of depth, limiting local birds' harmful approaches to the building.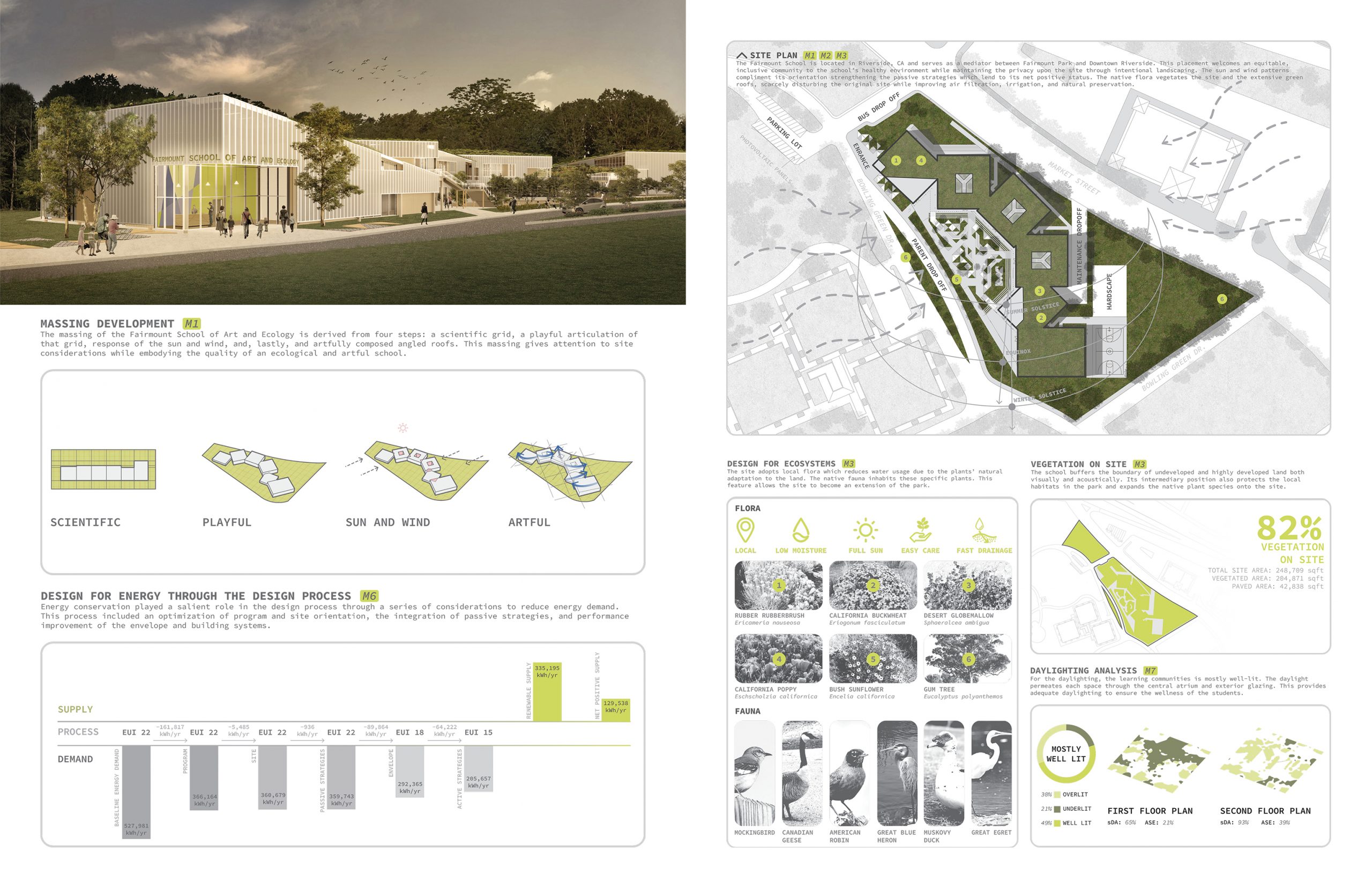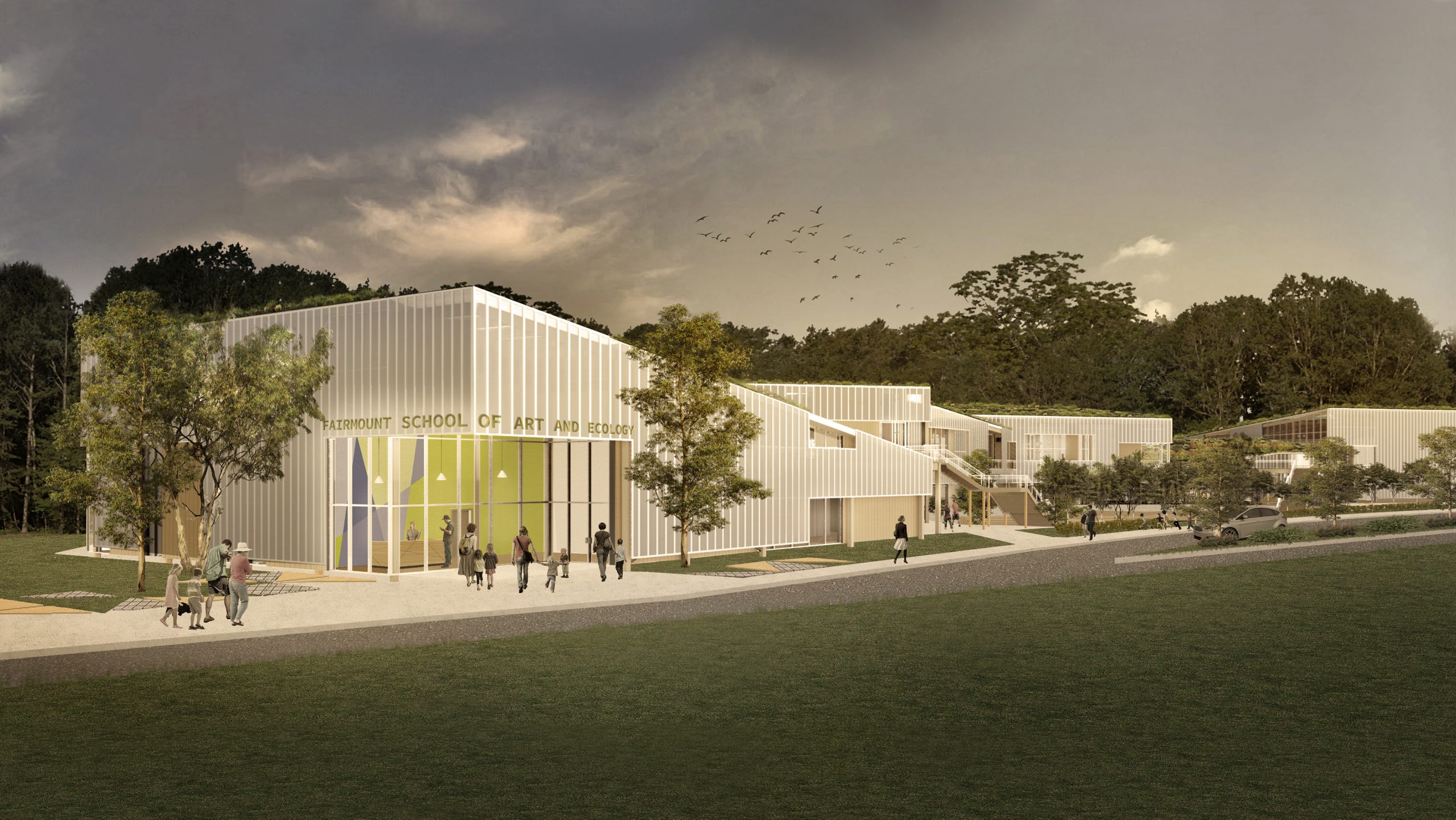 Design for Water: With Riverside's arid climate, 100% of precipitation is retained on site through permeable paving, green roofs, and vegetative areas. The extensive green roof is irrigated by cooling coil condensation and graywater. Water use is also reduced through xeriscaping and low-flow plumbing fixtures. California's Water Efficiency Standards provide highly beneficial regulation of water usage, decreasing consumption by 25%. The urinals are no-flush, requiring zero water flush supply lines or flush valves. The faucets do not exceed a flow rate of 0.5 gpm, and lavatories have a gpf of 1.28.
Design for Economy: With California's economic conditions, the average cost of a public elementary school is $450/sqft. However, several design decisions limit significant costs through program reduction, maximization of outdoor space, modularity, and construction materiality. The performance space and fitness center work in conjunction to accommodate more substantial occupancy while reducing square footage. The school efficiently utilizes outdoor space for circulation and learning spaces eliminating construction costs. The learning communities are modular, decreasing the financial demands in variant product replacement. Lastly, heavy timber construction usage provides natural acoustical absorption, which reduces costs for additional acoustic finishes.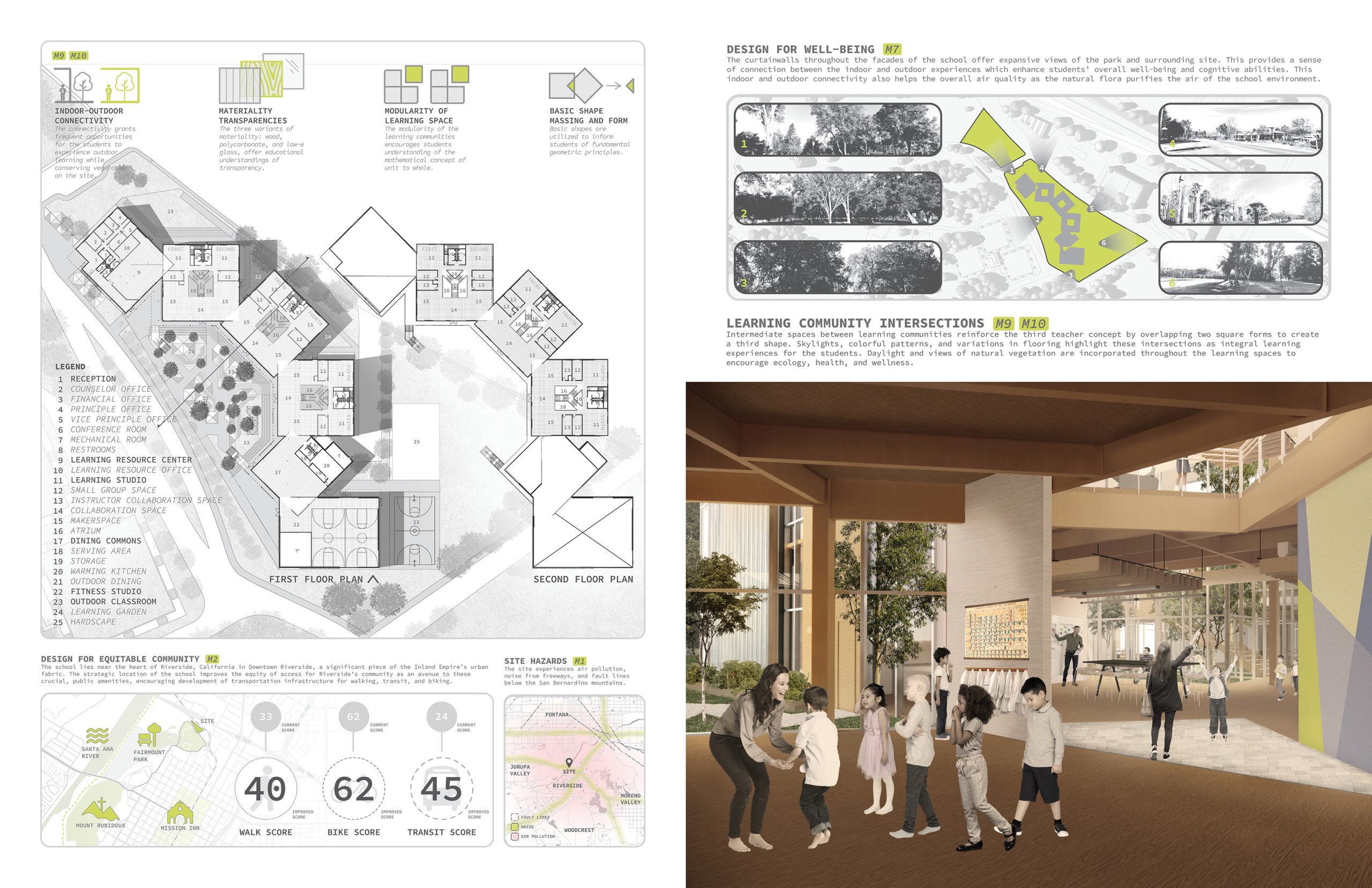 Design for Energy: Through each step of the systematic project design process, energy demands were decreased. The initial baseline annual energy demand was 527,981 kWh/year with an EUI of 22. The design was improved compared to this baseline through program reduction, site considerations, passive strategies, envelope optimization, and efficient active systems. The final design reduced the annual energy demand to 205,657 kWh/year with an EUI of 15. With a photovoltaic system over the parking structure producing a renewable energy supply of 335,195 kWh/year, based on an estimation from the NREL PVWatts Calculator, the building produces a net positive supply of 129, 538 kWh/year.
Design for Wellness: Many strategies are integrated into the design to ensure the well-being of users of the school. For daylighting, the learning communities are mostly well-lit permeating the space through central atriums and exterior glazing. These glass facades also provide quality views of the park and the sky. This offers significant indoor, outdoor connectivity, which enhances students' overall well-being and cognitive abilities. The indoor-outdoor relationship and use of no-VOC material on the interior improves indoor air quality.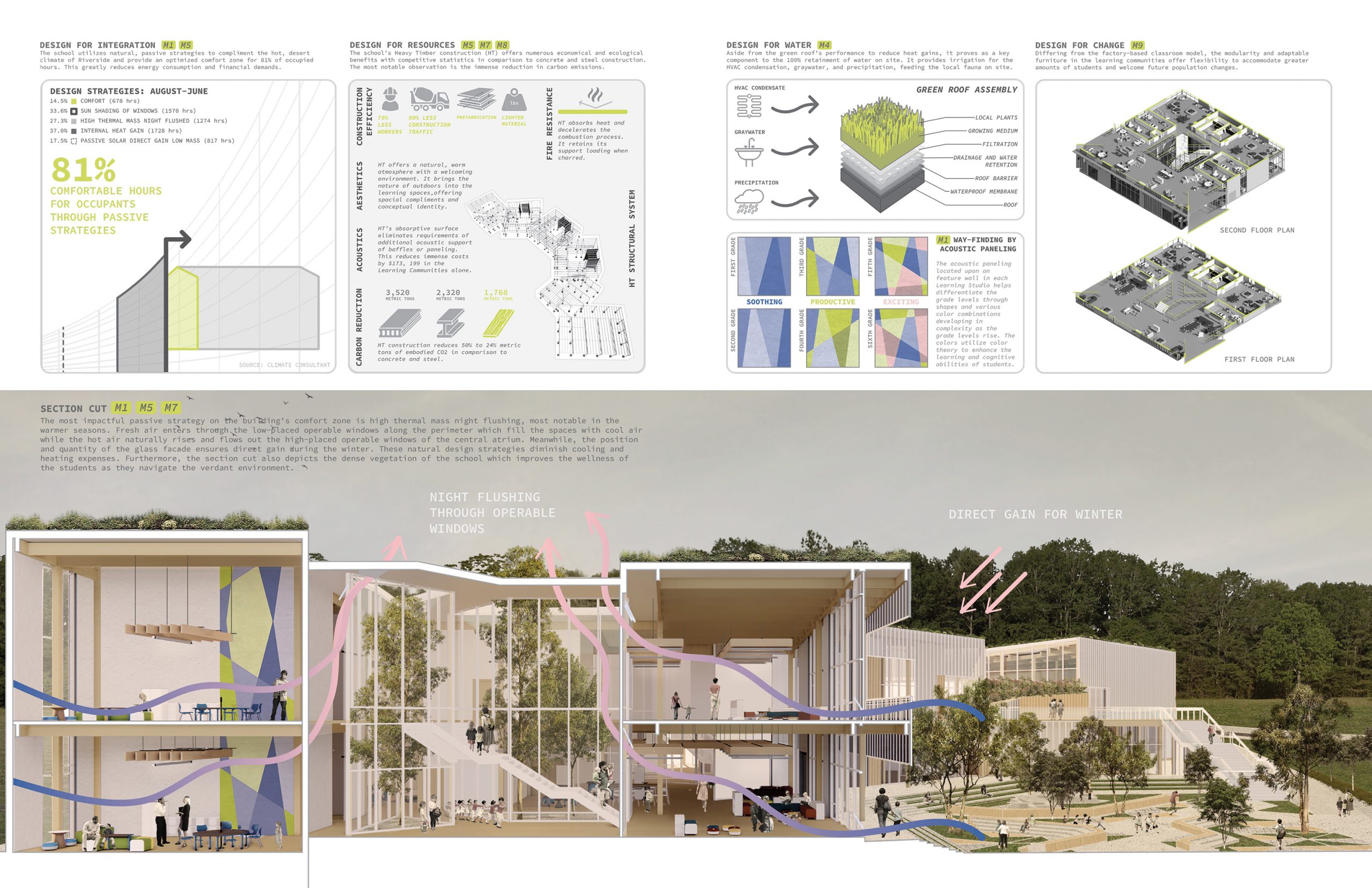 Design for Resources: The school's primary sustainable resource is its heavy timber (HT) construction, which includes the use of prefabricated cross-laminated timber (CLT) panels. HT reduces the carbon footprint by half compared to concrete construction and nearly a quarter compared to steel construction. It is more efficient and lightweight than typical structural options requiring fewer construction workers and reducing traffic demands. Studies have even correlated health benefits to HT construction as well as safety advantages. It absorbs heat and decelerates the combustion process while continuing to support its loading when charred. Lastly, HT contributes a natural, warm, and welcoming character to the design.
Design for Change: Fairmount School accommodates change through flexibility within the learning communities. Rather than adhering to a typical factory-based classroom organization, they provide the flexibility of multiple configurations at the school's discretion. The modularity of the learning communities will also accommodate future population changes. The two learning studios, shared collaboration areas, and maker spaces in each learning community could be quickly reallocated to other grade levels if needed. Also, if a community emergency occurred, the high-quality, public building's central courtyard and outdoor circulation could provide an alternative resource for community resilience through shelter and aid distribution.
Design for Discovery: Fairmount School's innovative application of the third teacher concept enables students to discover and enjoy an integrated educational experience through engagement with every detail of the architecture. The school is full of opportunities for learning and discovery from the floors of the learning communities to the trees throughout the site. The development of the school furthered my personal knowledge of sustainability. I was pleasantly surprised by the wide range of tactics used to improve the impact of the design on our environment. With practical, feasible design strategies, architects can innovate and create architecture that intrigues while healing our polluted world.