Student Name: Airene Joanne B. Dizon
School: California State Polytechnic University, Pomona
Studio: Senior Project Design Laboratory
Instructor: Sarah Lorenzen
In this project, I examine the concept of informality and its relationship to the spatial qualities of nooks and crannies found within the urban fabric. I am fascinated by how informal food vendors in urban centers of the Philippines and other developing countries, appear within the homes and surrounding crevices of residential neighborhoods. At first glance, the reappropriations of these dwellings and the areas in between, may seem disorderly, but as we take a closer look, their diverse personalities and social dynamics begin to emerge. My project takes a positive position on informality as an agent of self-cultivation and community-building. This form of informality similarly exists in Los Angeles through its street vendors and hole-in-the-wall restaurants. These small businesses speak to the informal culture of the city. Food vendors in LA also occupy the nooks and crannies of the urban fabric in unexpected ways, offering Angelenos a way to uncover the character of the city. The formal language of my project takes inspiration from the informal accumulations that allow for serendipity and chance encounters. As the most prominent device of my project, the use of nooks and crannies showcases how informal food retail can co-exist with housing.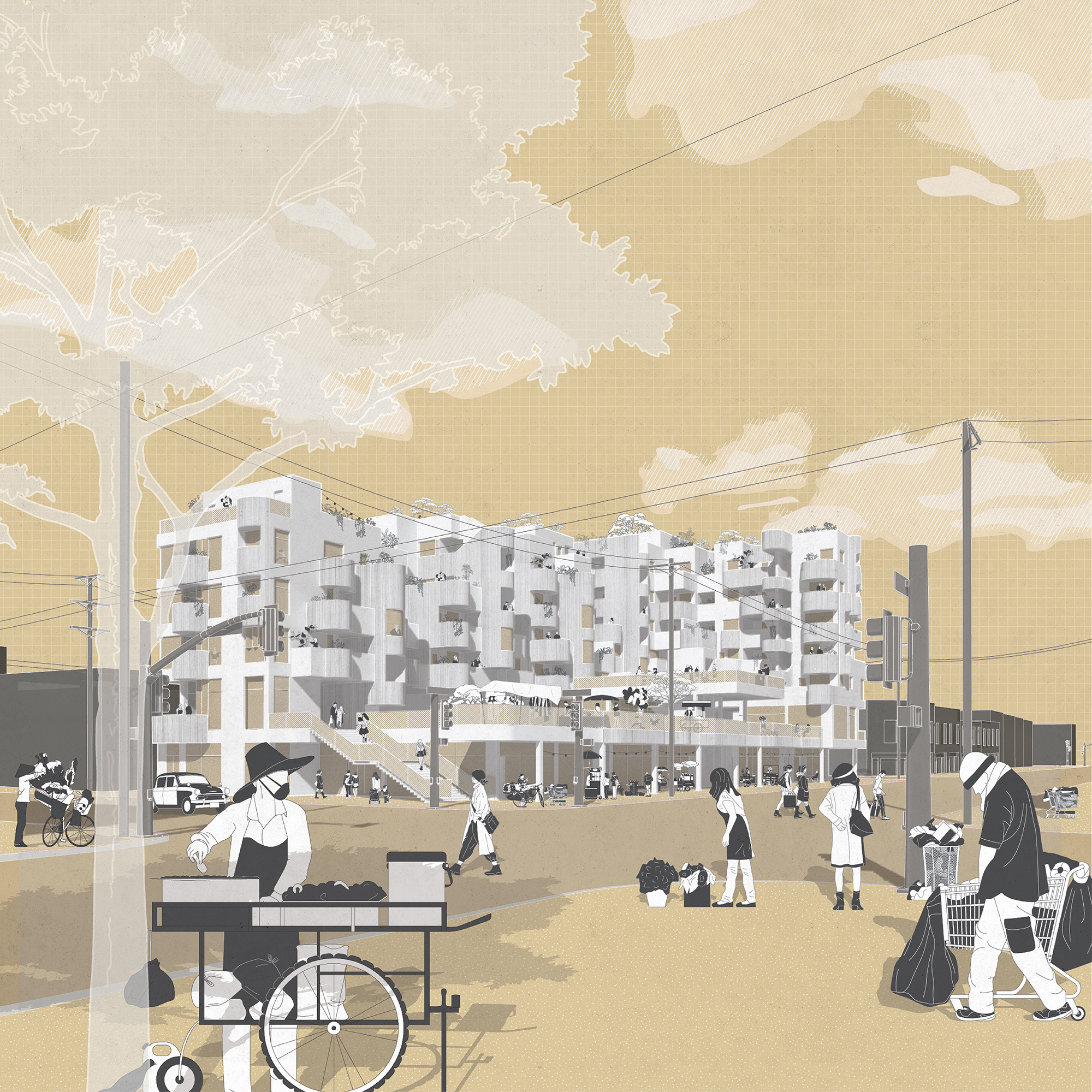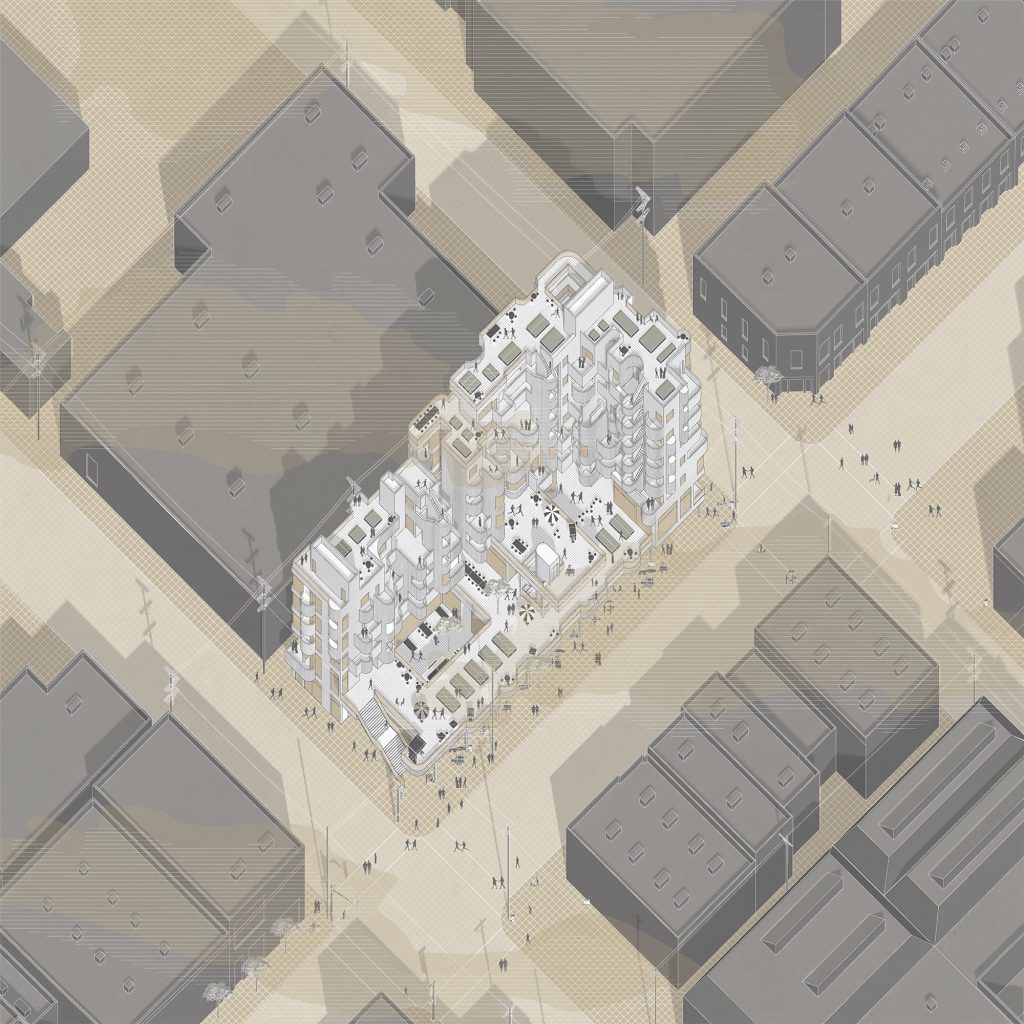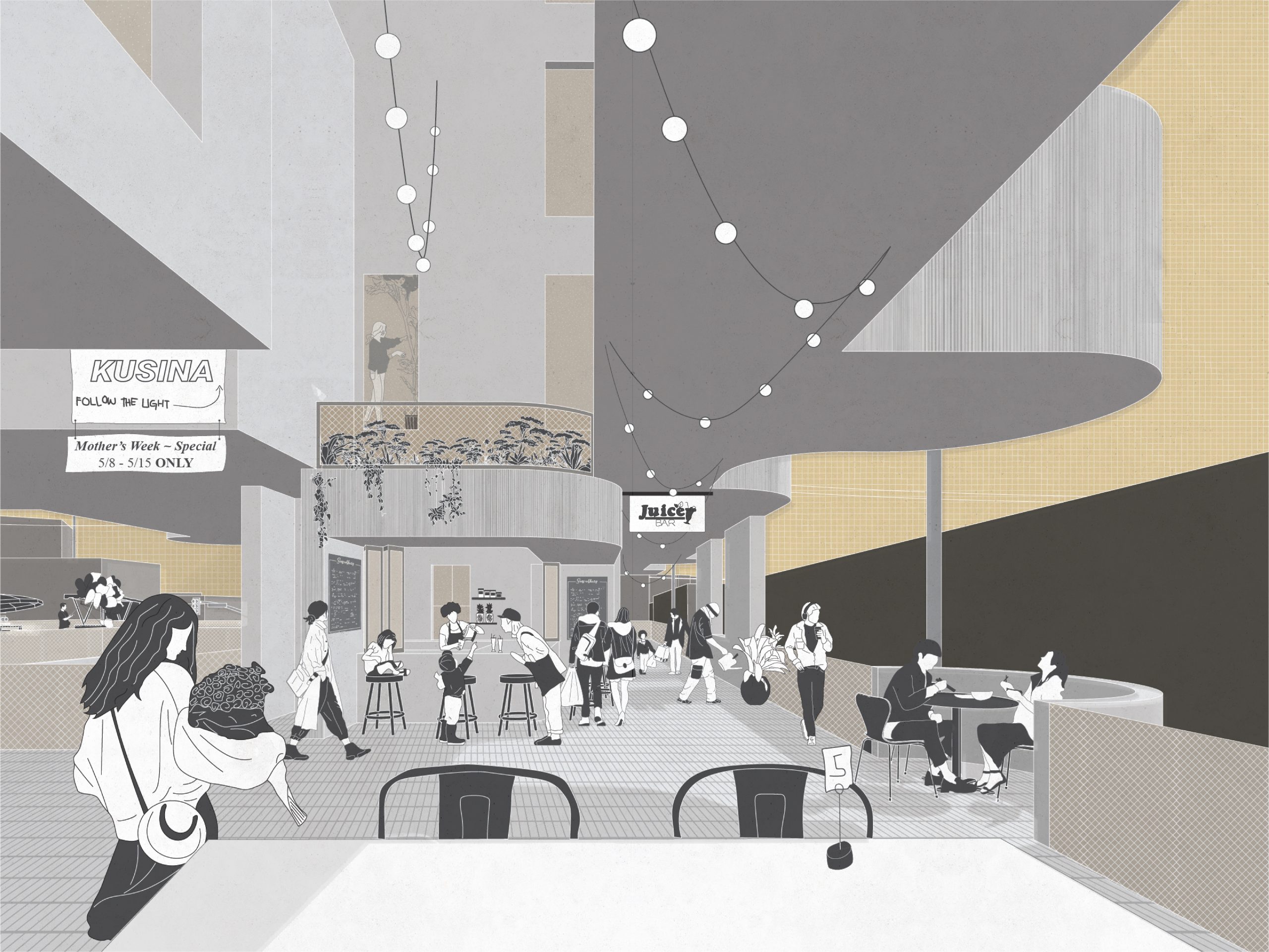 Nooks & Crannies was heavily inspired by my Filipino roots as well as other cultures that influenced me overtime. I grew up with the habit of asking people "Have you ate?" in place of "How are you?" I learned that asking someone if they have had food is synonymous to asking for their well-being. This habit and the idea of 'sharing of food' are very evident in other cultures, clearly depicting how individuals from different backgrounds can show care for each other through food. Similarly, in Skid Row, locals look out after each other in their own ways. Since the area suffers food insecurity, along with other issues, food vendors and other retailers offer affordable food resources to the population, whether homeless or not. I believe that reinforcing the idea of 'sharing of food' is a universal, wholesome tool to preserve and nurture the community in Skid Row. Lastly, as someone who honors my cultural heritage and always longs for Manila, a significant place that raised me into who I have become today, Nooks & Crannies became my creative outlet to express the beauty within density and the lively community that can emerge from a mix of personalities.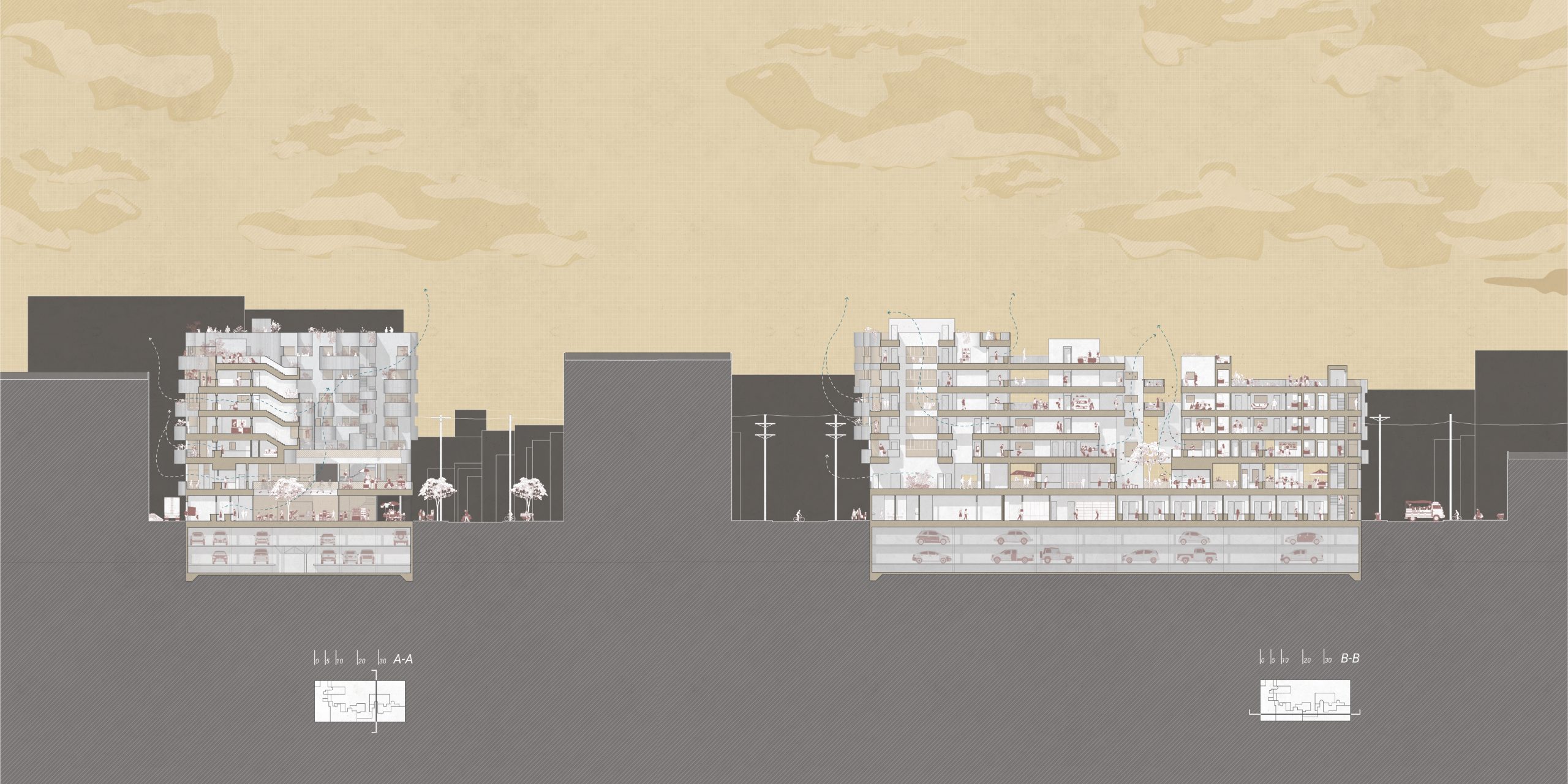 I had the opportunity to interview an employee from HHCLA (Homeless Health Care Los Angeles), an existing organization located on my site. I particularly gathered that the locals of Skid Row would always opt for food they can easily carry and depend on nearby liquor stores and food trucks due to the lack of immediate affordable grocery stores and other healthy food options. I also researched about some small food retail owners in Skid Row and learned about their stories and the community they have built with the locals. This research was important in shaping the massing and dedicating space to food retail and low-income housing. This was followed by extensive plan exercises to achieve the conceptual idea of the project while maintaining its livability and functionality. 

On public levels, I allowed the program to be open, irregular, and free-floating to provide flexibility to the food retail owners and opportunities to meander for the customers. On housing levels, I explored on creating variations of modular housing units and introduced food retail inserted within the housing. This integration led me to various degrees of texture graphically across all levels.  These housing floor plans exhibit an interpretation of multiple different pieces assembled into one building. The façade design allowed me to reflect the texture from the plans onto the faces of the project, which represent the density and diverse activities of the users. I introduced curved balconies on corridors with varying sizes, which are crucial to reflect the different personalities of the residents who may or may not wish to gather with other people. Through these plans and façade studies, I aim to express that community-building begins with self-cultivation first. The graphic representation of Nooks & Crannies demonstrates the people and their potential activities as individuals and as a community, looking out for each other, in Skid Row.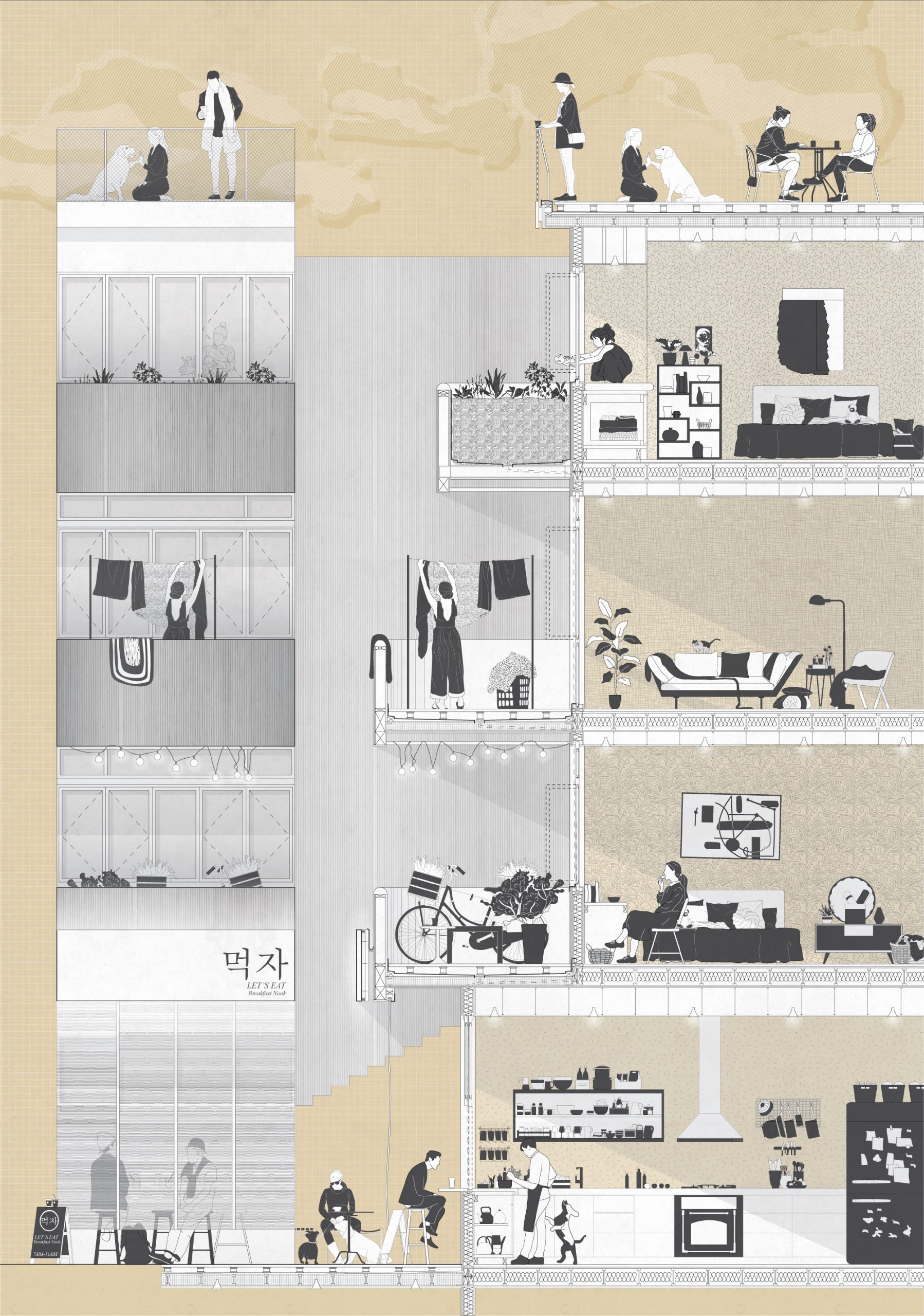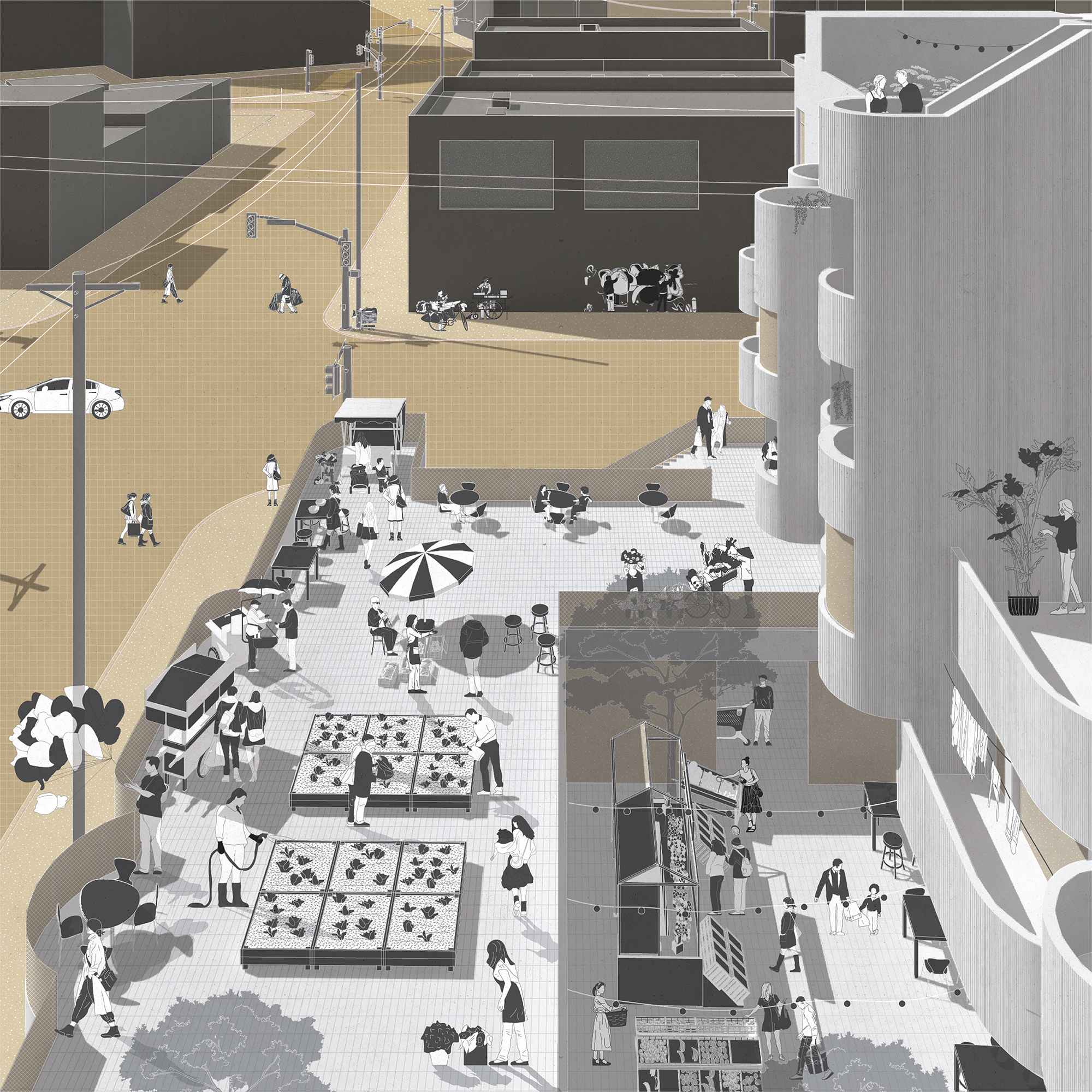 A community, in its very essence, is a conglomerate of people with similar interests and backgrounds. Therefore, architecture should be designed to contribute to the well-being of and preserve the relationships of the people it serves. This involves the act of placemaking to fuse different communities and produce a stronger camaraderie among people. However, individuals also have their distinct needs and wants. It is important to acknowledge their individuality while, in parallel, preserving the community. After all, a community begins with one person, then one household, before it encompasses a collective.

I also learned from Nooks & Crannies that community becomes the foreground of an environment if the architecture lets the people's activities shine through. While some designers can get obsessed with their own creations, architecture is ultimately about the people and the community it serves. Eventually, we, the designers, will hand over the baton to the users who will have the freedom to give character to their dwellings and become one with the evolution of its architecture.